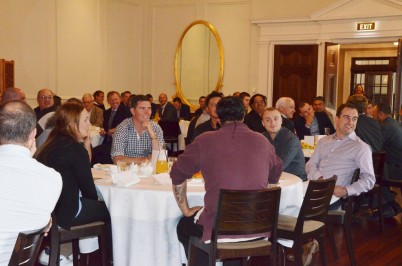 Kia ora koutou, nga mihi o te ata. Naumai haere mai ra ki te Whare Kawana o Te Whanganui-a-Tara. Good morning and welcome to Government House.
Normally I would single out particular individuals to acknowledge at the beginning of a speech of welcome. In this instance, I have been advised, and agreed, that this might not be appropriate because the Pukeahu project has been such an extraordinary team effort.
It is a great pleasure to welcome you all to Government House this morning for a celebratory breakfast.
This is a chance for me to express my appreciation, on behalf of all New Zealanders, for the role you have played in delivering our magnificent Pukeahu Park and the Arras underpass.
This morning's blessing reminded us that Pukeahu has a long and rich history – and that the hill has figured prominently in the heritage of this region.
Pukeahu's latest configuration brings to mind the words of American author Jim Rohn who said: "Whatever good things we build up, end up building us" – and I hope that this has been the experience of members of the Memorial Park Alliance.
Like all major undertakings, I'm sure the project had its challenges. So it's all the more extraordinary and satisfying that it was completed well ahead of what was already a very tight deadline.
I think that's testament to the commitment, focus and expertise of the people involved in the project. It's also evidence of the collaborative approach taken to solve the problems that arose.
It's very satisfying for us all to see the completion of this project, and I am delighted we, at Government House, can host some of the people who made Pukeahu Park possible. You have given the National War Memorial the setting it deserves and created a place where our wartime allies can also be commemorated.
Pukeahu will contribute to the sense of pride, heritage and belonging for all New Zealanders when they visit Wellington; and especially when we commemorate the special events in our nation's history.
Thank you for your fantastic work and please enjoy the hospitality of Government House.