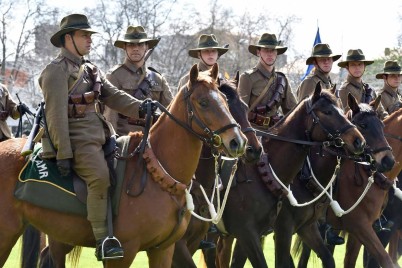 Rau rangatira mā, e kui mā, e koro mā, e huihui nei, tēnei aku mihi māhana ki a koutou. Kia ora tātou katoa. Distinguished guests, ladies and gentlemen, warm greetings to you all.
I specifically acknowledge: 1221 T/Ssgt Frank Harlow, late of the Divisional Cavalry and Queen Alexandra's Mounted Rifles; Her Worship Annette Main, Mayor of Whanganui; Jim Jefferies, Deputy Mayor of Palmerston North; Lieutenant General Rhys Jones, immediate past Chief of Defence Force; Major General David Gawn, Chief of Army; Major General Tim Gall, Commander Joint Forces New Zealand; Colonel Nick Gillard, Commander 1 Brigade; and Brigadier Neville Reilly, Colonel Commandant of the Royal New Zealand Armoured Corps; - tēnā koutou katoa.
It is a great pleasure to be here today to help commemorate the 150th anniversary of the formation of Queen Alexandra's Mounted Rifles. Events like this one are an important part of our heritage and army life in general.
Today is an opportunity for family, friends and former members to be a part of QAMR. It is an opportunity to reflect on and honour the men, and latterly the women, of QAMR. We recall the deeds done in various wars and conflicts, and remember those who are no longer here to stand beside you.
As the oldest Regular Force Unit of the New Zealand Army, the men and women of QAMR have every cause to be proud of its longevity and its history. From its fledgling start in Wanganui as Alexandra Troop to its reinstatement as a unit in 2011, "QA" in its various forms has made an outstanding contribution to the New Zealand Army's history and reputation.
That history has seen the regiment involved in every significant military campaign this country has been involved in. First, arising in response to the internal conflict of the New Zealand Wars, then under the blazing sun of South Africa and then to be tested to the hilt during the First World War in places like Gallipoli, the Sinai and Palestine.
Officers and soldiers from "QA" have also served with distinction in the Second World War with the Divisional Cavalry Regiment, Long Range Desert Group and Special Army Tank Squadron; and in Japan, Korea, Malaya, Viet Nam, Bosnia-Herzegovina, East Timor and Afghanistan.
Its members have won high acclaim and office. In 1868, Trooper William Lingard, a founding member of the Alexandra Troop, won the New Zealand Cross for rescuing a comrade under enemy fire at Titokowaru's pa at Tauranga Ika. During the Boer War, Farrier Sergeant Major William James Hardham won the Victoria Cross at Naauwpoort, in January 1901, when he rescued two wounded comrades while under heavy enemy fire. And with us today is an officer who grew up in QA, Lieutenant General Rhys Jones, who retired earlier this year having been the Chief of Defence Force.
The trusty mounts of earlier eras have long since given way to the reliability and speed of motorised horsepower. Technology has changed the way the military operates but the unit retains its ability to deliver military power with speed, agility and shock. Underpinning its modern appearances, the people in QA hold the same values that have been present since the earliest days - courage, commitment, comradeship and above all dedicated service to our country. These are things that are important to all New Zealanders, and your contribution; past, present and future; is valued. Officers and soldiers of QAMR have consistently lived the regiment's motto – "Ake ake kia kaha – Forever and ever be strong".
As we mark one hundred years since the beginning of the First World War, the Mounted Riflemen who have paid the ultimate sacrifice in all wars is a sobering reminder of the incredibly high price that service to our country and peace sometimes demand.
"Ka maumahara tonu tātou ki a rātou – we will remember them".
Notwithstanding, 150 years distinguished service to New Zealand is an outstanding achievement. It is a remarkable feat for those of you on parade and your predecessors like Frank Harlow - congratulations.
Last updated:
Saturday, 20 September 2014