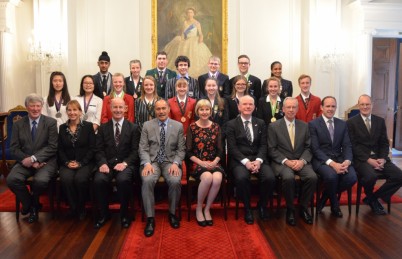 Rau rangatira mā, e kui mā, e koro mā, e hine mā, e tama mā, e huihui nei, tēnei aku mihi māhana ki a koutou. Nau mai haere mai rā ki Te Whare Kawana o Te Whanganui-a-Tara. Distinguished guests, ladies, gentlemen, young women and young men warm greetings to you all, and welcome to Government House Wellington.
I specifically acknowledge: Patrick O'Reilly, Deputy British High Commissioner; Candy Green, Chargé d'Affaires at the American Embassy; Dr Andrew Cleland, Chief Executive of the Royal Society of New Zealand; Mr Dean Schmidt, General Manager, Corporate Affairs, Genesis Energy; Dr David McCall, General Manager – Research and Development, Dairy NZ; Dr Kieran Devine, Chief Executive, Institution of Professional Engineers NZ; and Ian McKinnon, Chairman of the NZ Commission of UNESCO - tēnā koutou katoa.
I am delighted to welcome you all to Government House today for the 2014 Realise the Dream Awards. This is the fourth time we have hosted the awards here at Government House. It's an event I look forward to each year because it is a valuable platform for unlocking the promise of science, technology and engineering and showcases a depth and diversity of research and the huge potential of our young people.
Scientific research is a huge driver of ingenuity and innovation. It has the potential to improve economic growth - exponentially. There would be few people who would doubt that inventions like refrigerated shipping, the electric fence and aerial topdressing had an enormously beneficial impact on New Zealand's economy. The innovators and inventors themselves might not have identified as scientists, but their discoveries were firmly underpinned by a systematic – scientific - methodology and research, their own or someone else's.
As a nation we like to celebrate the number 8 fencing wire approach to providing solutions. Supposedly it's a part of our heritage and built in to our "DNA". Unfortunately, it has to some extent cloaked reality and the important role that research plays in the development of new and innovative technologies and products.
We need to progress beyond those quaint notions. Dreams are free, but realising the dream costs time, intellect and energy! We need to acknowledge that it is painstaking research, trial and error and hard work that makes for success. And so it's important that we nurture and encourage our young scientists, engineers and technologists; and give them the means, the time and the space to develop their skills and knowledge.
Tonight, we are acknowledging 16 smart young scientists who are the awards finalists tonight. There's is a unique honour - being singled out as a high achiever in scientific or technological research. I congratulate all of you for the countless hours you have put into your research projects, for your discipline and commitment and for your results. It has been the discipline to do your research thoroughly and the commitment to follow your discoveries to a proper conclusion that has got you here. It won't always have been easy and you may have had to challenge yourselves in ways that you might not have expected.
Each of the projects has the potential to make a beneficial impact, whether that is on our farms, in medicine, for our environment, for safety on farms, in outdoor pursuits or our food, or for the smart use of technology.
Working on "Realise the Dream" will have taught the young finalists much about the highs and lows of discovery. It's not always smooth sailing.
For some of you, the end result of your project may have been successful, but not necessarily what you expected or intended. I would remind you that some of the most popular inventions are the result of scientific serendipity. Silly Putty, Post–It Notes and the microwave oven are all examples of that.
For some of you, your end result may be just another step along the way. Although Sir Ernest Rutherford split the atom, it was others following in his footsteps who found the methods of harnessing its power.
Sir Ernest was one of our greatest scientists. He and others like astronomer and cosmologist Beatrice Tinsley, pioneering rocket scientist Sir William Pickering and physicist and entrepreneur, Sir Paul Callaghan show that growing up at some distance from the rest of the world is no hindrance to anyone contemplating a career in science.
The research and innovations proffered by our 16 finalists show the diversity, the enthusiasm and the potential of our young people. I only have a layman's understanding of science, engineering and technology, but when I read the outlines of the projects, I was impressed, and I was excited by the possibilities they offer.
Once again, I congratulate you all on what you have achieved. I'd also like to thank your families, teachers and schools who have supported you in reaching your goals. I acknowledge them for the part they're playing in fostering the environment where young people can realise a dream.
Good luck with your future endeavours - I hope they continue to involve the world of science, engineering and technology. As scientist Carl Sagan once said "Somewhere, something incredible is waiting to be known." It's your turn to go out and look for that incredible something.
Kia ora huihui tātou katoa