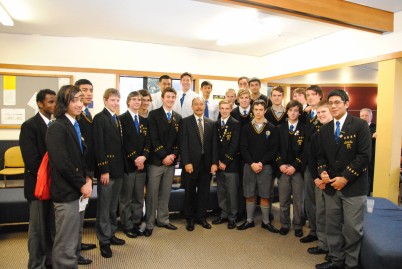 To view more images, click here
E te Tumuaki, me te Poari Kaitiaki, e ngā Kaiako, ngā tauira, me ngā mātua, o tēnei kura te Kareti o Rongotai, tēnā koutou katoa. I extend greetings to the Principal, Chair of Board of Trustees, the teachers, pupils and parents of Rongotai College.
I specifically acknowledge: Dr Lynn McBain, Chair of the Rongotai College Board of Trustees; Kevin Carter, Principal; and Olliver Frederickson, Head Boy - tēnā koutou katoa.
Thank you for inviting me here today for the opening of Rongotai College's new gymnasium. Opening any new facility is a special event because it represents the culmination of the dreams and the hard work of people. And opening new facilities at schools are especially important because they represent an investment in the future of our young people and a faith in the power of education to transform lives.
First of all, I want to congratulate you on your welcome to us this morning. Given that we are practically neighbours, and students from the College have been to Government House to provide a massed haka for visiting Heads of State, it is time I visited the college. I feel we are among friends!
Our being here, shows there is still a place in our 21st century world for the traditional and the ceremonial. You will probably know that for most of my working life I was in the Army; where military traditions from centuries ago - British and Maori - are kept alive. There is also an emphasis in the Army on physical fitness, to the point that it is part of the job description.
For a soldier on active service both as an individual and as a team member being fit is important. Being fit means you are less likely to let your mates down. It is essential to have the extra 'grunt' to keep going when things get tough so that you can get the mission done, or rescue a sick or wounded mate. Albeit without the dangers of a fire-fight, a hard game of rugby or a tramp in mountainous terrain requires a similar level of commitment and fitness.
In the context of being at school, physical achievement and academic achievement go hand-in-hand. The great humanitarian Nelson Mandela once observed that, "A good head and a good heart are always a formidable combination."
A couple of weeks ago New Zealand commemorated another great humanitarian Sir Edmund Hillary and the 60th anniversary of his ascent of Mt Everest, with the Nepalese Sherpa, Tenzing Norgay.
Sir Edmund once commented that in spite of all the new technology that had been invented since he made that epic climb in 1953, in the end it is personal attributes that count in such endeavours. He said: "When the going gets tough and things go wrong, the same qualities are needed to win through as they were in the past – qualities of courage, resourcefulness, the ability to put up with discomfort and hardship, and the enthusiasm to hold tight to an ideal and to see it through with doggedness and determination." He said it another way that "It's not the mountain we conquer, but ourselves".
Sir Edmund and Nelson Mandela point to the same conclusion. In life a fit mind is enhanced by a healthy body, and vice versa. I've always found that when I've been fit, I've been able to cope better with the stresses life brings.
Getting a gymnasium back at Rongotai is an important part of creating the right environment within the school. Apart from the obvious health benefits and consequential sound minds that I have mentioned, a gymnasium also helps to build good men and women.
Sir Edmund also said that he always hated "the danger part of climbing "but," he continued, "there is something about building up a comradeship – that, I still believe, is the greatest of all feats – and sharing the dangers with your company of peers...."
It's comradeship that makes the wartime experience endurable, that makes seemingly impossible mountains conquerable and that makes hard rugby and hard tramps satisfying. And it's comradeship that is one of the most important aspects of school life for young men that comes from facilities like a gymnasium that will be remembered when facts and figures are forgotten.
I hope the students of Rongotai College will make good use of their new gym – and enjoy making use of it. And I now have great pleasure of declaring the new Rongotai College Gymnasium open.
Kia ora huihui tātou katoa.