Rotary Youth Leadership Award programme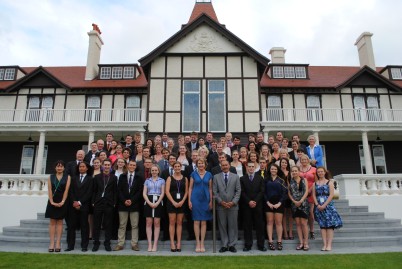 To view an image from the reception, click here
E nga mana, e nga reo, e nga iwi o te motu, e huihui nei, tēnei aku mihi māhana ki a koutou.  Kia ora tātou katoa.  Distinguished guests, ladies and gentlemen, I extend warm greetings to you all.
I specifically acknowledge: Bob Smith, Governor of Rotary District 9940; Nick Walmsley, President of the Rotary Club of Plimmerton; and Tony Fryer, Chair of Rotary Youth Leadership Award International.
It's a great pleasure for Janine and me to welcome you all to Government House in Wellington this afternoon.  If this is your first time in the House we invite you to have a look around it after the formal ceremony, and enjoy its history and beauty.
As Governor-General, I've had the opportunity to observe a wide range of leaders in our communities over the past six months.  As with many aspects in our lives we base many of our assessments on our personal experiences.  Today, I have been asked to talk about my personal perspectives on leadership, within the context of the Rotary Youth Leadership Programme. 
I have always found that putting one's cards on the table is a useful tactic.  So, as a former Rotarian, I can say that I believe the Rotary Youth Leadership Award is a fantastic opportunity for young people to develop their personal skills and leadership potential: as a leader in the community, in your workplace, in a sports team or in the arts.
The programme recognises, encourages and coaches future leaders by offering an intensive leadership experience.  Rotary's commitment to developing future leaders, by encouraging them to be the best they can be, is a distinctive opportunity.  I urge you to draw from this experience as much as you can. 
On this the second day of the programme, you've no doubt realised that leadership is a subject which everyone has an opinion.  And in the case of leadership, five people will probably have 25 views!
I thought I'd give some of my insights into leadership, one person's experience and certainly at least five views.  What I intend doing is to outline my career, make some observations and then open the forum up to your questions. 
It's more than 40 years since I left school in Whanganui.  My first job on leaving school was as an accounting cadet.  Being an accountant didn't seem to be for me after I sat behind a desk for three months processing paper!  So when I drove past an Army recruiting office with a friend who was interested in finding a job we "popped-in".  When we left, I had the enlistment papers – the rest as they say is history!
When I enlisted as a soldier, I had no idea that I would end up as the Governor-General, let alone Chief of the Army or Chief of the Defence Force.  Like many young men I wanted adventure and paraphrasing the song by the rock band Queen "I wanted it all and I wanted it now!"  I certainly wanted more adventure than what I thought life as an accountant offered!
I suppose the first insight I can offer is that you shouldn't expect your career or life to be firmly mapped out when you're 20—life just doesn't work like that.  It's unfair to expect that someone knows what they'll be doing at 30, let alone at 40 or 50, when you're 20. 
But what you can say—apart from politely pointing out this inconvenient truth to those who might expect it of you — is that wherever life takes you, that you want to do your best, to take opportunities when they come along, keep your options open and enjoy life.  Life and leadership is about the choices you make along the way. 
I've been blessed with opportunities to command and lead New Zealanders in places such as Bougainville, southern Lebanon, Timor Leste and Afghanistan.  From these opportunities have come options around courses in the UK, Singapore and Australia and military postings overseas.  Some may characterise my career options as luck – well you make your luck, it doesn't just happen.
Turning to look at leadership more specifically, when I consider at the different leadership roles I've had there are some clear differences.  As Chief of Defence Force I had at my disposal the authority to apply military power—to order the people under my command to use deadly force against other human beings. 
An insight: people often confuse leadership with the power to make people do things.  Just because you're a leader and can give subordinates "orders", whether you're an Army officer or a chief executive or manager with many staff reporting to you, it doesn't follow that people will do as you order.  As General Dwight Eisenhower, who led the Allied Forces in Europe during the Second World War and then served as President of the United States once said: "You do not lead by hitting people over the head—that's assault, not leadership."  In other words, respect is earned, not given as of right or because of your position. 
Another insight is that most powers of leaders are limited rather than absolute.  While the powers I had as CDF were significant, they were limited by the law and subject to the control and direction of the Prime Minister and Minister of Defence.  It was not, for example, my decision to send the NZSAS into Afghanistan in 2009 or troops into Tonga in 2006.  However, once the Government had decided to do so, then it was my job to advise on how that should be done and to implement the decisions.
Becoming Governor-General was another complete change.  The five streams to the role—constitutional, ceremonial, community, heritage and international—all present opportunities. 
My constitutional powers, while seemingly significant, are, by convention, limited.  I act on the advice of democratically-elected Ministers and with the exception of the power to appoint a Prime Minister, my reserve powers have thankfully never been used in New Zealand. 
Although my constitutional powers are appropriately constrained, my community leadership role—which makes up 80% of the job — is as wide as I want to make it.  There is no handbook or manual and each holder of the Office has undertaken the community leadership role in their own way.  
As Governor-General, I employ no staff, and what I do is very public.  The staff at Government House is employed by the Official Secretary.  They support my work and are accountable to the Secretary of the Cabinet and the Chief Executive of the Department of Prime Minister and Cabinet.  It's a far cry from commanding and leading almost 15,000 people!
So from Chief of Defence Force—where I had significant powers, and limited jurisdiction—I have moved to a role where I have measured powers and an almost unlimited jurisdiction.
The gift of leaders who can inspire and motivate has been regarded as a mystery.  As I intimated at the start, we may all know good or bad leaders, but defining what leadership is and what makes for a good or bad leader has perplexed great minds. 
My view is that leadership is less about mystery and more about common-sense.  In part, leadership is about the way individuals play their roles within groups.  In any group dynamic there are followers and there are leaders. 
Two factors are critical in determining whether that group dynamic is constructive.  The first is how the individuals within that group interact and that will in large measure dictate how successful it is in meeting its goals.  Barking out orders doesn't make one a leader.  Likewise, success comes from leaders and followers working together with a common purpose.  The point is well made in the Māori proverb: "Mau tēnā kiwa o te kete maku tenei" — which translated says "each of us at a handle of the basket."  It speaks of co-operation, a sense of purpose and of a load shared being a load halved.  Good leaders facilitate that kind of teamwork.
The second critical factor is that leadership, just like all relationships between people, does not occur within a vacuum.  Leadership needs to be built on fundamental values.  Both professionally and personally, I've found the New Zealand Defence Force values—courage, comradeship, compassion and integrity—have acted as an anchor for me because they reflect a set of behaviours required in the most challenging of circumstances.  Values are personal, situation specific and need to suit the organisation or group you're with.  For example, for us at Government House public-spiritedness, accessible, courageous and compassionate reflect the character of my role as I see it, and our organisation.  The point is that without values, leadership becomes inherently weak, where a single-minded pursuit of ends plays little heed to the methods being used. 
As you might surmise, I think that courage is a universal value for a leader.  It is courage—whether that's the courage of your convictions or the courage demonstrated by your deeds—upon which everything else rests.  Someone who professes to be compassionate yet lacks courage also lacks integrity, and is usually insincere and false.
To that end, leaders need to do more than just speak of their values.  They need to show their commitment to them in their dealings with others.  Leaders are not judged by what they say, but what they do.  So when you err, you need to be accountable.  Own it, fix it, learn from it and move on.  It should always be "I was wrong" and "we were right" and when doing things, it's "we can" and "I do" and in sharing responsibility, it's "I lost" and "we won." 
Late last year, I hosted an investiture ceremony at Government House where the gallantry of three members of the New Zealand Army was recognised.  All three were soldiers during an attack on a convoy in Bamyan province in Afghanistan on 3 August 2010, which claimed the life of Lieutenant Tim O'Donnell.  All three displayed extraordinary courage and bravery.  All three shared responsibilities.
What their experience highlights is that there will be, and indeed must be, times when we all need to show courage and leadership.  A well-known playwright of the 19th century, Henrik Ibsen, said: "A community is like a ship; everyone ought to be prepared to take the helm."  The experience in Canterbury after the series of earthquake there provides other examples of this.  There were, for example, the heroic actions of everyday people who put their lives in danger to save others.  There were also people like Sam Johnson, who organised and led the Student Volunteer Army; they showed how ordinary people working together can achieve extraordinary results.
In conclusion, with leadership there is no silver bullet explanation.  What works for me might not work for you – so celebrate difference.  If you aspire to be a leader you do need to be both confident and competent.  You need to have confidence in your own abilities.  You need to be confident working with ambiguity and seeing both sides of a dilemma, as well as being competent in what you do to engender respect.  Leadership is about respect, earning it for yourself and showing it to others. 
In my view, good leaders are the people who know both their strengths and their weaknesses.  They hold fast to core values so they can work to build their strengths, minimise their weaknesses and retain choices.  Being prepared to make tough choices and decisions, to tell the people who work for you an uncomfortable truth, is a matter of integrity and leadership.  You have to be able to explain your decisions, so you can take others with you.  As American civil rights leader, Martin Luther King Jr once said:  "The ultimate measure of a man is not where he stands in moments of comfort and convenience, but where he stands at times of challenge and controversy."
Kia ora huihui tātou katoa.