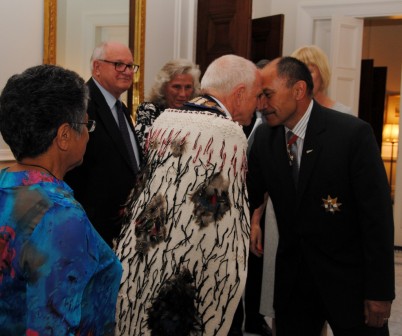 E nga mana, e nga reo, e nga iwi o te motu e huihui nei, tēnei aku mihi māhana ki a koutou. Kia ora tātou katoa.
I specifically acknowledge Scott Simpson MP.
It is a great pleasure for Janine and me to welcome you all to Government House this evening.
I am particularly delighted that we can recognise in this way, the service of Justices of the Peace from around New Zealand, and celebrate a very important anniversary.
There can be few organisations that can boast 200 years of service in New Zealand.
Thomas Kendall's appointment as our first JP, in November 1814 – so early in the history of European settlement – highlights how important JPs are in the orderly functioning of civil society. To my mind, it confirms Sigmund Freud's observation that "The first requisite of civilisation is that of justice".
If Kendall were with us today, he might be astonished to see how the role has evolved since 1814, reflecting changed societal needs and norms. He would probably be delighted to see that JP services have been made easily accessible - in private residences, at service desks in libraries and citizens' advice bureaux, and at courthouses.
On the other hand, he might find some contemporary requests a little perplexing. Signing documents written in non-European languages, including Maori; the swearing of oaths on sacred objects other than a Bible; or providing a signed confirmation that a person receiving a pension from another country is still very much alive reflect living circumstances alien to a 19th Century Justice of the Peace.
We can only expect more of these kinds of requests, particularly now that one in four New Zealanders was born overseas.
What hasn't changed in 200 years is the need for Justices of the Peace. The individuals and the institution that they represent are enduring. They are here to stay. For many New Zealanders, a JP may be the only judicial officer we ever have contact with.
It is a significant advantage is that JPs come from all walks of life, and represent the diverse communities in New Zealand. What they all have in common is a commitment to provide services to their fellow New Zealanders, without fear or favour. Our citizens appreciate that they have free access to these services.
As a side note, next month I will be visiting the site where Thomas Kendall and two other English families settled at Rangihoua in 1814. They were there, under the protection of Ngai Tawake and Nga Puhi at the neighbouring pā. Like the JPs in tonight's audience, Kendall was fully involved in his community. In addition to being New Zealand's first JP, the Reverend Kendall was also part of the first church settlement in New Zealand, and he was associated with the first European school here.
The commemorations at Rangihoua will be my final – and I might say a very appropriate engagement - for this year where the focus for Government House has been on the themes of peace and families.
The theme for our work in 2015 will be nationhood. It is a year of significant anniversaries, including the 175th anniversary of the signing of the Treaty of Waitangi, the 150-year anniversary of Wellington's status as the nation's capital, and the centenary of the Gallipoli landings.
As we look forward to those anniversaries, we can reflect on the long history of Justices of the Peace in our nation's history. We can celebrate people who have freely contributed their time and expertise as JPs, who have helped with the functioning of this nation's administration, and who have enabled their fellow citizens to meet their legal obligations.
I congratulate the Federation for reaching the milestone of 90 years.
I wish the Federation and its people all the best as you evolve and seize the opportunities that lie ahead – in the third century of JP service to New Zealand. I wish you all the best with your new Judicial Studies course and the JP Education Trust's Emerging Leaders Programme.
I will conclude by quoting the theologian, organist, philosopher, physician, and medical missionary Albert Schweitzer:
"You must give some time to your fellow men. Even if it's a little thing, do something for others – something for which you get no pay but the privilege of doing it."
Thank you and please enjoy the hospitality of the House.
Kia ora huihui tātou katoa
Last updated:
Tuesday, 25 November 2014