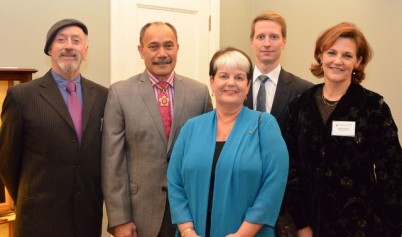 To view more images, click here
E kui mā, e koro mā, e huihui nei, tena koutou katoa. Nau mai, haere mai ra ki Te Whare Kawana o Tamaki Makaurau. Ladies and gentlemen, greetings to you all, and welcome to Government House Auckland.
I specifically acknowledge Candis Craven, Chair of the Royal New Zealand Ballet Board of Trustees; Amanda Skoog and Ethan Stiefel , General Manager and Artistic Director respectively of the company; Christine Savery, President of the Auckland Branch, Friends of the Royal New Zealand Ballet; Sir Jon Trimmer; and also our predecessors the Rt Hon Sir Anand Satyanand and Lady Susan Satyanand. Tēnā koutou katoa.
It is a great pleasure to welcome you all to Government House this evening. And to join you as patron of both the Royal New Zealand Ballet and the Friends of the Royal New Zealand Ballet in celebrating the Royal New Zealand Ballet's 60th Anniversary.
One can only imagine what the founder of the company, Poul Gnatt, would think about its achievements over the past six decades. In 1953 it would have been – if you'll excuse the pun – a leap of faith to imagine what the company would achieve in these 60 years.
Today's Royal New Zealand Ballet Company would be almost unrecognisable to the pioneering dancers of 1953. The size of the company, the number of support staff, the way shows are publicised are all worlds away from the early barnstorming days; where dancers performed after they had packed in and rigged the lighting and then packed out of venues.
What hasn't changed is the company's commitment to being a ballet company for all New Zealanders. By travelling the many thousands of miles each year to ensure as many people as possible have the chance to see ballet of an international standard is a testament to the enduring nature of Poul Gnott's dream. This 60th anniversary year is no exception, with one national tour completed, one underway and another 46 centre tour set to head out in October. And for good measure, the Royal New Zealand Ballet has also thrilled audiences in China; its third successful tour to China.
I'm reliably informed that the dancers no longer have to hang lights or sell ice creams at half time. However, the relentless schedule is a sobering reminder that the life of a professional dancer is a tough one! What we see as seemingly effortless grace on stage belies the hard physical work, long hours of practice and personal sacrifices made to achieve the highest levels of artistic beauty. The company has been fortunate to have had Artistic Directors, like Ethan, who understand the demands and yet demand much of the dancers.
Talent is a gift but without dedication and hard work it is nothing. This company's existence today is a tribute to the commitment of all the talented and dedicated people who have been part of the company's family over the last 60 years.
Here I want to acknowledge the dedication of our "knight at the ballet" Sir Jon Trimmer. When the company fell on hard times he returned from overseas and helped ensure its survival. His example personifies the passion that lies behind and within this ballet company. A celebration of Sir Jon's 50-years with the company and his contribution was marked at a reception in 2008 at Government House Wellington hosted by Sir Anand and Lady Susan Satyanand.
When the great Russian ballerina Anna Pavlova said "To tend, unfailingly, unflinchingly, towards a goal is the secret of success," she was thinking of the individual. However, I believe it equally applies to a small group of people at the other end of the world who had a dream of forming a professional ballet company in New Zealand. That dream has become one of this country's best loved arts institutions, and its reputation as a company of international standing was reinforced when Her Majesty Queen Elisabeth II awarded the company its Royal Charter in 1984.
To conclude, I would like to quote the words of American dancer Aubrey Lynch. He said: "To touch, to move, to inspire. This is the true gift of dance." This is a gift that the Royal New Zealand Ballet has given us over and over again during six decades of leadership in our creative community and it is one that is gratefully received.
We are celebrating this fantastic milestone in tribute to the tenacity, dedication and vision displayed by the Royal New Zealand Ballet's people, its creators, its directors and its creative staff over the years. We also celebrate the commitment, passion and love of ballet and valuable support, financial and otherwise, provided by the Friends of the Royal New Zealand Ballet.
As Governor-General and your Patron, on behalf of all New Zealanders, I want to congratulate the company on 60 years of achievement. May the next 60 years-plus be equally as fruitful!
Kia ora, kia kaha, huihui tātou katoa
Last updated:
Wednesday, 21 August 2013