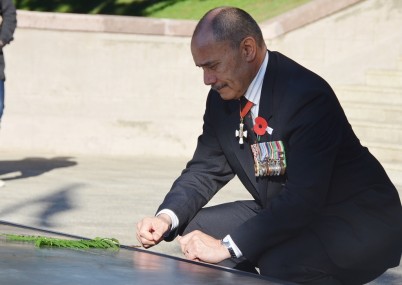 Rau rangatira, e huihui nei, i te kaupapa i tēnei rā, tena koutou, tena koutou tena tātou katoa. Naumai haere mai ki Te Whare Kawana ki Te Whanganui-a-Tara. Kia ora tātou katoa.
Distinguished guests, gathered here today, greetings and welcome to Government House.
I specifically acknowledge: Lt Gen Tim Keating, Chief of Defence Force; Honorary Colonel Dr Annette Huntington, Colonel Commandant of the Royal New Zealand Nursing Corps; and Lt Colonel Lee Turner, Director of Nursing Services - tēnā koutou katoa.
I am delighted to join you for this reception to celebrate the 100th anniversary of the Royal New Zealand Nursing Corps. This year is a year of notable commemorations for New Zealand and I'm pleased to add the founding of the Royal New Zealand Nursing Corps to that list.
Already this year we have marked the 175th anniversary of the signing of the Treaty of Waitangi and next weekend we will celebrate the 150th anniversary of Wellington as our capital city. More solemnly, we have marked 100 years since the ANZACs went ashore at Gallipoli; and next month, my wife Janine and I will be attending commemorations at Chunuk Bair, the site of one of our fiercest battles during the Gallipoli campaign.
With so many significant anniversaries taking place, our theme for this year has been nationhood. It's been an opportunity for us all to think about what it means to be a New Zealander. Who are we, where have we come from and where are we going? What makes us similar to or different from other peoples? It has also given us cause to think about the institutions and organisations that are important to us and our communities.
Events like today are an important part of that reflection process. Anniversaries should be both commemorative and celebratory events. They allow us to take stock of the past, to remember those who came before us and also a time to look to the future. We've done the commemoration part at the National War Memorial, now we move on to the celebration.
We can celebrate the women and men of the Royal New Zealand Nursing Corps. While the RNZNC has evolved significantly since it began as the New Zealand Army Nursing Service in 1915 as technology, society and nursing techniques have changed, the people in it have remained its constant.
Certainly the make-up of the Corps has changed. Once, members of the Corps had to be either unmarried or widowed without children . Later that rule was relaxed. Nonetheless, married women were required to leave when they had children. Those conditions are archaic compared to the 21st Century Royal New Zealand Nursing Corps - headed by a man and welcoming of nurses regardless of marital status, gender or station.
I'm sure those early nurses would be pleased with the level of support, resourcing and respect the Corps now receives. Having officer status, rather than having a visible rank, sometimes made it difficult for those early nurses to exercise authority. It was by professionalism, empathy, charm and sheer force of character that they did their work. As I have indicated, some things have not changed!
The ideals of service have also played a large part in nursing. It seems to me that military nurses do this twice over - providing compassionate service to their fellow human beings and dedicated service to their country.
As I look around the room, I see nurses who have lived through change and demonstrated what committed and dedicated nursing staff can and do achieve. I see women and men who have ably represented New Zealand during two World Wars and conflicts in Vietnam, Iraq, Timor Leste and Afghanistan. In those theatres, our nurses have looked after our soldiers, sailors and aviators; and also contributed to the health and well-being of civilians.
The scientist, philosopher and humanitarian Dr Albert Schweitzer said "The purpose of human life is to serve and to show compassion and the will to help others." Members of the Royal New Zealand Nursing Corps have demonstrated this purpose on a daily basis for the last 100 years.
I congratulate the Royal New Zealand Nursing Corps on 100 years of loyal and dedicated service. I hope you all enjoy this opportunity to meet with former and current colleagues and celebrate the work of nurses. Please enjoy the hospitality of the House.

Kia ora huihui tātou katoa