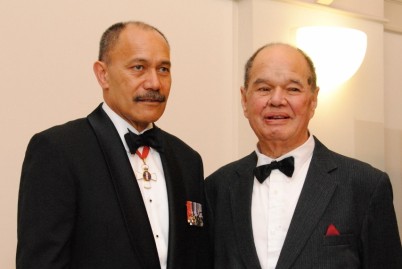 To view more images, click here
Kia ora koutou, nga mihi māhana ki a koutou. Nga mihi ko Matariki tō Aotearoa tau hou - Matariki whetu ki te Rangi, tāngata ora ki te Whenua. Na reira, kia ora tātou katoa.
Good evening everyone and warm greetings to you all during this time of New Zealand's New Year – Matariki – that was signalled by the Matariki stars in the sky, bringing health and new beginnings on Earth.
I specifically acknowledge: Pippa, Lady Blake, co-Patron of the Sir Peter Blake Trust and Shelley Campbell, Chief Executive of the Trust; Members of the Trust Selection Panel and Board of Trustees; Hon Hekia Parata and Hon Nikki Kaye, Ministers of the Crown; Your Worship Julie Hardaker, Mayor of Hamilton respectively; Major-General Dave Gawn, Chief of Army; Blake Leadership Award Supporters and Blake Leaders - tēnā koutou katoa.
It's a great pleasure for me to be here tonight for the 2013 Sir Peter Blake Leadership Awards. The nature of these awards and who and what we celebrate make them special. And so it is an honour, and becoming something of a tradition as co-Patron and Governor-General, to be present each year for this very special evening.
Each year brings a new class of Blake Leaders who inspire, motivate and create positive change in their communities and further afield. And the best part is that they are committed to increasing the prosperity of our country, in many different fields.
The 2011 New Zealander of the Year and 2007 Blake Medallist, the late Sir Paul Callaghan said: "What greater sense of fulfilment can there be but to make a difference to the community in which you live? That's the real opportunity New Zealand offers….Here everything you contribute makes a visible difference".
As a nation, we continue to prove that, despite being a small geographically-remote country, we are world leaders. In November last year the annual Prosperity Index rated New Zealand first in the world for education, second for governance and personal freedom, and fourth for social prosperity - that is, the strength of our communities.
What that picture represents is something we all know well: New Zealand is among the best countries in the world in which to live, to work and to make a contribution. And it's crucial that that reality is future-proofed; that a prosperous future for those that come after us is guaranteed. To do that we need leaders to step forward, leaders who aren't afraid to ask the question: "What does a better New Zealand look like, and how do we get there?"
It all begins with a dream; the freedom to create; and the start of an idea with transformational power. Revolutionary dreaming takes courage. It takes passion, belief and support to turn a dream into a reality. It takes people who dare to dream about the possibilities and the opportunities rather than dwell on the challenges and impossibilities. A good leader and friend of mine from the Army, John Barclay, often said that: "Challenges are opportunities playing hard to get!"
As Governor-General, I place community leadership at the heart of my role representing Her Majesty the Queen in New Zealand and New Zealanders. I have learnt much about the notion of "leadership" in my life. I've had my successes, and also made my mistakes, and both are important. What I've learnt is that defining leadership is no easy thing – you know it when you see it - and that much of what shapes a leader are the choices they make, the attitude they adopt and the strength of character they demonstrate.
Our nation is brimming with talented leaders – some of whom we'll honour this evening. They are examples of New Zealanders who are following their dreams and contributing to our country in a variety of positive and significant ways.
The best part is that all New Zealanders have the opportunity to make a difference. The starting point is to allow your passions and imagination to launch you into dreaming big, into dreaming often and into putting your dreams into action.
That's why I am excited to be leading the 2013 Dream Team, promoting youth leadership in action, and reminding our most precious taonga - our young people - that they matter, that they are valued, and that they have endless opportunities if they choose to dream and, crucially, to do.
There is a whakatauki or Māori proverb that was often quoted by the Māori doctor, health administrator, politician, military leader, anthropologist and museum director Sir Peter Buck - Te Rangi Hiroa: "Ka pu te ruha. Ka hao te rangatahi – as the old net is laid aside, a new net is remade". At his tangi, one of my predecessors in referring to Te Rangi Hiroa's passing adapted that whakatauki and issued a challenge when he said: "The old net is cast aside, but where is the new net?"
With that said, I now have the privilege of making a very special announcement, on behalf of the Trust, about the new net.
Some of the greatest experiences in life are those that are positively life changing. They are the experiences that challenge us, grow our self-confidence and help us to clarify our strengths and future direction. The Young Blake Expeditions' programme was created to provide these life-changing experiences for New Zealand's next generation of leaders.
The inaugural expedition to the Kermadecs last year took 30 young inspiring Kiwis on the adventure of a lifetime to one of the world's most pristine marine reserves. I spent some time with them and I'm delighted to hear of the contribution they've gone on to make.
So it was with some anticipation that I waited to hear what was next – and I've not been disappointed. Tonight I can reveal that the Young Blake Expeditions will follow in the footsteps of Sir Peter Blake to a place he cared deeply about, by launching a series of expeditions to the Southern Ocean and sub-Antarctic. Part of a longer term legacy for this region, and in conjunction with the Royal New Zealand Navy, Department of Conservation, New Zealand Antarctic Research Institute and NIWA, a new group of young environmental leaders will board HMNZS Wellington in February 2014 for the beautiful and remote Auckland Islands, alongside some of New Zealand's leading scientists. Rich in biodiversity and the hotspot for the impact of changes in Antarctica, there is no better place to measure the impact of climate change.
I want to quote the words of Sir Peter, who often spoke of the environmental impact we all have, for better or worse, dependant on our choices and our actions as individuals, communities, and countries:
"I love what I see. I've spent such a lot of time on the ocean and I guess I've told the story many times, but to be sailing around the world in our first round-the-world races when our boats used to be surrounded in the Southern Ocean by many, many large albatross, I mean... it was extraordinary. Dozens of them, and they'd be there for day after day. Now, in the same parts of the world you're lucky to see one of these - say, a wandering albatross – one a week, they're nearly all gone… I think everyone really needs to understand that we are a part of the environment, not apart from it."
This ambitious adventure will gather much needed insight and knowledge, so that together we can learn how to adapt to the significant environmental changes occurring in the world today.
My interest in the 2014 expedition is only superseded by a future environmental adventure planned for this region, and I am thrilled that our planning envisages me joining the scientists and young expedition crew for the February 2015 expedition.
Finally, I want to say again what a pleasure it is to be here this evening, and to acknowledge and honour those who are part of the 2013 class of Blake Leaders.
Kia ora huihui tātou katoa.