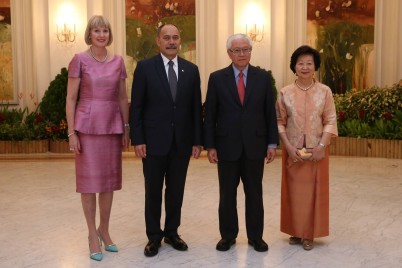 Your Excellencies, President Tony Tan Keng Yam and Mrs Tan, thank you for your kind welcome and hospitality. Janine and I are delighted and honoured to share this time with you.
I would also like to acknowledge: Minister for Health, Mr Gan Kim Yong and Mrs Esther Gan; and Minister for Transport and Second Minister for Defence Mr Lui Tuck Yew and Madam Teng Soo Fen.
Your Excellency, I recall that you and I assumed our roles a day apart in 2011. We must have been among the first to exchange congratulations and official greetings!
I have fond memories of Singapore, and Janine and I have always been happy to return here, to see the newest development, to see old friends and to shop!
Before I continue, I want to take a moment to acknowledge the passing of Singapore's first Prime Minister – and a friend of New Zealand – Mr Lee Kuan Yew.
I was honoured to attend Mr Lee's funeral earlier this year on behalf of the Government and people of New Zealand.
If I can sum up Mr Lee's contribution to his country, I can do no better than to quote from the tomb of Sir Christopher Wren: "Reader, if you seek his monument, look about you". Mr Lee Kuan Yew's legacy is evident for all to see in the Republic of Singapore.
2015 is an important year for New Zealand and Singapore. In New Zealand we have commemorated the 175th anniversary of the signing of the Treaty of Waitangi, the founding document of modern New Zealand. In Singapore 2015 marks your 50th anniversary of independence. And together we celebrate 50-years of a special diplomatic relationship.
I am pleased to note that New Zealand was one of the very first countries to acknowledge Singapore's new status in 1965. A Prime Ministerial statement to that effect was made to our Parliament on 10 August. By 22 November that year we had established diplomatic relations with each other, and New Zealand's first Chancery had opened in Nassim Road.
New Zealand was honoured to be invited to your 50th National Day in August – which I am sure will be a remarkable and memorable event.
Our High Commissioner has told me that she and her staff have enjoyed watching the preparations and rehearsals from their offices overlooking the Padang. Having been a guest at a previous National Day event, I know it will be a fitting tribute to Singapore and all Singaporeans – past, present and future.
We congratulate you wholeheartedly on the impressive progress Singapore has made, and the achievements of Singapore's leaders – you and your Pioneer Generation - and all Singaporeans. The designation of the Singapore Botanical Gardens as a World Heritage site, is further endorsement, and a wonderful 50th – Golden – Anniversary milestone.
In the fifty years since our two nations have worked together in a spirit of partnership, resilience and innovation to become close friends.
The strong bilateral relationship we enjoy is evidenced by the number of high-level visits between our two nations. Already this year there has been a visit by your Minister of Foreign Affairs to New Zealand in May; and our Minister of Defence visited Singapore in April and then again in May. Janine and I hope that there will be an opportunity to host you and Mrs Tan in New Zealand in the near future.
With my background, I should mention our comprehensive defence relationship. Singapore is our closest defence and security partner in South East Asia. Together with Australia, Malaysia and the United Kingdom we maintain the Five Power Defence Arrangement. And, bilaterally our two armed forces exercise and train together regularly.
I appreciate that for Singaporean "NS-men", Waiouru at the height of our summer – with temperatures between 2 and 22 degrees Celsius on a good day – is character-building! However, the beneficial effect of training together, in harsh conditions, has been evident when we operated together in conflict zones like Timor Leste and Afghanistan.
Our close people-to-people links are evident in the number of our nationals residing and working in each other's country. Your Excellency, you have mentioned the statistics about Singaporeans currently living in New Zealand and New Zealanders living and working in Singapore, and our 2013 census. As well as our daughter Krisha who lives here and our other daughter Renee who was born here being included in the those numbers, our Prime Minister's son Max is also one of the 5,370 people who identified themselves as being born in Singapore.
In education, we can look back at the many connections that have been made since Colombo Plan scholars began attending university in New Zealand in the 1960s. Initially, many of them found New Zealand boring and unbelievably quiet, no doubt something their parents will have found reassuring!
Today, New Zealand is a popular destination especially for Singaporean newly-weds. The Lord of the Rings and Hobbit movies have also attracted a new wave of visitors to 'Middle-Earth'. Singapore remains a popular stop over for New Zealanders as they make their way into Asia and beyond to Europe.
We also have close links in areas as diverse as science, innovation and trade.
In the international arena, Singapore and New Zealand are working closely in regional and international processes. Your Excellency you have mentioned the Regional Comprehensive Economic Partnership and Trans Pacific Partnership free trade agreement negotiations.
More recently we have shared views on the establishment of the Asian Infrastructure Investment Bank, and co-chaired the Preparatory Committee for the 3rd Small Island Developing States Conference hosted by Samoa in 2014.
Our countries work closely together on United Nations Security Council matters, particularly in the Forum of Small States, which is currently under Singapore's leadership.
New Zealand thanks Singapore for its early and steadfast support for our successful election to a seat as a non-permanent member of the United Nations Security Council.
Your Excellency, while I am in Singapore, I am also taking an opportunity to acknowledge another significant milestone – the 40th Anniversary of New Zealand's relationship with ASEAN. New Zealand's relationship with ASEAN remains front and centre of the New Zealand government's foreign policy. New Zealand has made a significant and successful investment as a Dialogue partner over those 40 years.
New Zealand values the support Singapore, a founding member of ASEAN, has given for our engagement with this important regional grouping.
In New Zealand's case we don't want to rest on the laurels of our shared history, we want to move our relationship with ASEAN to a closer and more strategic level. There is an opportunity to make this goal a reality this year.
New Zealand is committed to making a substantive contribution to ASEAN's aspirations and priorities this year, and into the future.
Last evening, I attended an event at the New Zealand Residence to acknowledge this 40th anniversary milestone. It provided an opportunity to acknowledge five Singaporeans – Mr Stanley Tan, Dr Ong Poh Seng, Dr William Tan, Mr Lee Chuan Seng and Mr Goh Choon Phong - for their contribution to the relationship.
All of these ties confirm that Singapore and New Zealand have much in common, and that we benefit from each other's successes and advocacy.
Our two countries have already enjoyed 50 years of friendship. I look forward to seeing this strong friendship flourish in the 50 years to come.
Your Excellencies, thank you once again for your generous hospitality. It is that warmth which gives a special quality to our bilateral relationship and always makes it a great pleasure to return to Singapore.
Your Excellency, I would now like to also propose a toast, Ladies and Gentlemen please stand and join me in a toast:
To His Excellency Dr Tony Tan Keng Yam, President of the Republic of Singapore and the people of Singapore".
And to the strong and enduring friendship between our two peoples".