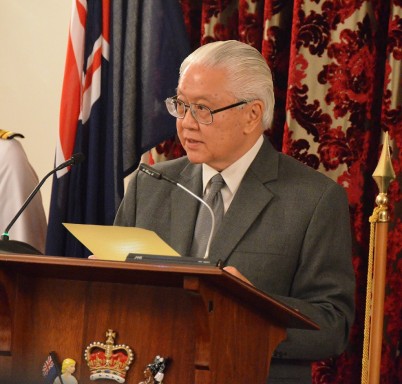 Distinguished guests, ladies and gentlemen good evening and welcome to Government House. I would like to especially acknowledge and welcome President Tony Tan Keng Yam and Madam Mary Chee Bee Kiang to New Zealand; and to thank them for the kind and generous hospitality that the Republic of Singapore extended to Janine and me during our recent State visit to Singapore.
Since our visit to Singapore in July, there have been some notable developments. Firstly, only last month Singaporeans went to the polls and Prime Minister Lee Hsien Loong and the People's Action Party secured a resounding victory. We are pleased to welcome here tonight some of Singapore's newest Members of Parliament who are with your delegation.
Earlier this month in Atlanta, we were both parties to the concluded Trans-Pacific Partnership or TPP negotiations. As two of the four original "P4" members, who initiated the agreement that evolved into the TPP, we can be especially proud of this accomplishment.
Your Excellencies, your arrival in Wellington last night coincided with celebrations for the coming Deepavali – something familiar to you. Meanwhile, your visit to Wellington and Christchurch offers the opportunity to look at and experience some things new.
In what has been an important year for our two countries, in August, Singapore marked its 50th year of independence. New Zealand's Prime Minister, the Right Honourable John Key, was delighted to attend the celebrations in Singapore. I understand that the National Day Parade was a spectacle to behold, and truly warranting a special milestone.
In four weeks' time, on the 22 November, New Zealand and Singapore will celebrate 50 years of diplomatic relations. Over time, or bilateral relationship has been characterised by partnership, resilience and innovation. The close friendship we have is underpinned by a shared history, and our peoples' shared values and aspirations.
New Zealanders are proud that our Parliament and Government were among the first to recognise an independent Singapore, on 10 August 1965. However, our ties go back further, to World War Two, when New Zealand military personnel took part in the defence of Singapore. They are also steeped in our Commonwealth heritage.
There needs to be more to a relationship than a shared history, and there is. Our relationship is strengthened by close people-to-people links. Many thousands of Singaporeans and New Zealanders currently live, work and visit each other's country. A telling statistic from our last census reveals that over 5,500 New Zealanders were born in Singapore. Personal contact at all levels is key in our relationship. I am pleased to note the presence tonight of your son Peter and his wife Sharon.
Personal connections and people-to-people links are a catalyst for broadening our links in science, innovation, trade, investment and tourism.
Defence cooperation has been a cornerstone of our relationship. Singapore is New Zealand's closest defence partner in Asia. Our armed forces train together regularly. Occasionally, they have also operated in conflict zones together.
Every summer, we welcome Singaporean troops to Waiouru for Exercise Thunder Warrior. Our summer climate is not always kind on your NS-men. I'm pleased to report that for the coming summer season we anticipate your soldiers should enjoy some summer weather – well much of the time at least!
A strong relationship is evident in regional and international fora. As small trading nations Singapore and New Zealand rely on an open, efficient, rules-based multi-lateral international system. We share aspirations for the well-being and security of our citizens.
Our two nations have a complementary trading relationship. In addition to a bilateral Free Trade Agreement and the TTP we work closely to achieve greater regional economic integration in other initiatives like the Regional Comprehensive Economic Partnership or RCEP.
Singapore is at the forefront of our relationship with ASEAN. We work closely as members of the Five Power Defence Arrangements and in meetings of the Association of South East Asian Nations Defence Ministers' Meeting-Plus.
We also work together at the UN. We are most appreciative of the strong support Singapore gave for our United Nations Security Council candidacy.
President Tan, our countries have enjoyed a 50-year friendship based on mutual respect, openness and trust. We benefit from each other's success and our shared history, and our peoples' shared values and aspirations. I look forward to seeing that friendship continue to flourish over the next 50 years, and beyond. To echo the words of Prime Minister Lee Hsien Loong during my visit in July: "May the friendship between our two countries continue to grow in strength".
On behalf of Her Majesty The Queen of New Zealand, and the Government and people of this country, I say in our Maori language: "Mai nga kokona o te whare Aotearoa nga mihi māhana kia korua – From the four corners of the house of Aotearoa I extend a warm welcome to you both."
Your Excellencies I would like to propose a toast. Ladies and gentlemen please stand and join me in a toast:
• To His Excellency Dr Tony Tan Keng Yam, President of the Republic of Singapore and the people of Singapore.
• And to the partnership and enduring friendship between our two peoples.