Tini whetū ki te rangi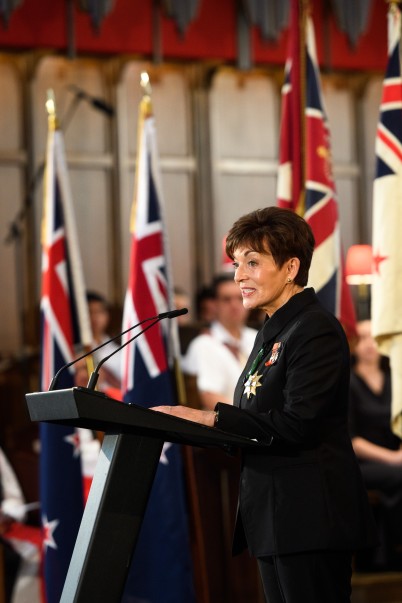 Ka mau tonu, Ka mau tonu
Tini tangata ki te whenua
Ngaro noa, Ngaro noa.
While the stars above remain unchanged and unchanging
The earthly world changes inevitably with the loss of precious loved ones.
His Royal Highness Prince Philip, Duke of Edinburgh, was loyal companion and beloved support to Her Majesty The Queen for more than 70 years. For many of us he has, like The Queen, always been there. We can perhaps be forgiven for seeing him as one of the unchanging stars in our sky.
Today we gather in sadness, to recognise and honour the extraordinary life of service of His Royal Highness. Our thoughts are with Her Majesty and her family as they grieve the loss of their much-loved patriarch.
When people gather to reflect on the lives of those who have passed away at the end of a long and fulfilling life, it is natural to contemplate the ways the world has changed during that person's lifetime.
Prince Philip's place at The Queen's side offered him a unique window on, and role in, a rapidly changing world. Today we reflect on the impact of his long life on the institution of the monarchy. And we remember the role he played in the story of 20th and 21st century world history.
If we look back on Prince Philip's life, it is all the more remarkable because of its early challenges.
It is a tribute to his character that he overcame those circumstances.
He credited his time at Gordonstoun School for giving him stability and purpose, under the mentoring of the headmaster, Kurt Hahn, who was also founder of the Outward Bound movement.
Hahn was instrumental in working with Prince Philip to establish the Duke of Edinburgh Awards in 1956, which is now widely recognised as the world's leading youth achievement award.
Through the Awards programme, over 13 million young people in over 168 countries have benefited from opportunities to develop skills and confidence, as well as achieving a heightened sense of social responsibility and service.
Prince Philip remained committed to the programme throughout his life and continued to be involved. He took great satisfaction in its ability to transform the lives of young people.
Each year I have had the pleasure of seeing the confidence and strong sense of purpose demonstrated by our rangatahi who have earned the Duke of Edinburgh's Hillary Gold Award, when I host them at Government House.
Older New Zealanders will remember Prince Philip when he accompanied Queen Elizabeth on her tours to New Zealand.
At Government House in Wellington, at the end of the ceremonial North Lawn, there are two large Blue Atlas Cedars. Both were planted on 15 January 1954 – one by The Queen, and one by The Duke of Edinburgh.
They stand as testament to the long connection both The Queen and The Duke have had with Aotearoa/New Zealand. I can personally attest to the Royal couple's genuine affection for this country and their fond memories of their visits here.
That first visit by our young Queen and her dashing consort was a never-to-be-forgotten experience for the thousands of people who turned out to welcome the couple.
It also turned into a time of national mourning, as New Zealand experienced one of its darkest moments. Prince Philip attended the funeral at Karori Cemetery of 21 victims of the tragic Tangiwai Rail Disaster.
Prince Philip visited New Zealand 14 times in total. On his visits, he travelled throughout the motu to meet people from every culture, walk of life and region.
Many New Zealand families will have stories about a time when one of their members met The Duke. He was well known to be a frank and engaging conversationalist. I'm sure those stories are being retold fondly now.
Prince Philip was a man of his time, but in many ways he was ahead of his time.
At a time when it was very rare for a man to give up his career in support of his wife, Prince Philip relinquished his promising career in the Royal Navy to support the Queen.
He poured his considerable energies into his own programme of charitable engagements and work with patronages, often focussing on his passion for sport, his love of flying and his special interest in engineering, science and technology.
In a lifetime of over 22,000 solo engagements, he was renowned for being curious and challenging, for wanting to find solutions and better ways of doing things.
For us in the 21st century, perhaps what resonates most about his interests was his pioneering advocacy for conservation and the environment.
No doubt he regretted that his views did not gain traction quickly enough to achieve critical change a long time ago, but he will have influenced generations of people who have worked to halt species collapse and degradation of the natural world.
Prince Philip may have retired from public duties in 2017, but his role as husband, confidante and sounding board for Queen Elizabeth and their family continued until his death.
I am sure many of us were hoping that he would reach his centennial milestone, but it was not to be.
His absence will be felt most keenly by Queen Elizabeth, but his death also leaves a huge gap in the lives of their family. First and foremost, Prince Philip was a husband, a father, a grandfather and a great-grandfather.
In the months and years to come, he will live on in their memories, and in their continued dedication to lives of service and duty.
He tangi, he mihi, he poroporoaki
E moe, i te moenga roa,
ki reira okioki ai.
Grieve, acknowledge, farewell, rest now, Rest In Peace.