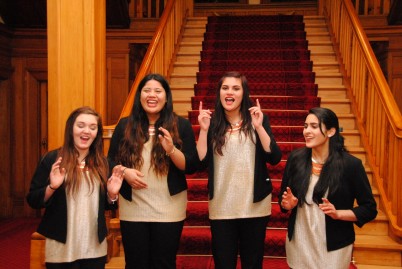 To view more images, click here
Kia ora. Nga mihi o te po ki a koutou. Greetings to you all this evening. It's a great pleasure for Janine and me to welcome you back to Government House for this investiture dinner. Tonight's dinner is an opportunity to celebrate your achievements and to reflect on the contribution you have made that has culminated in us being here.
This evening is doubly special as we celebrate the 120th anniversary of universal suffrage in New Zealand, in the company of 43 remarkable women and their invited guests.
The New Zealand Honours System seeks to acknowledge and thank those people who have contributed at local, national and international levels, to the benefit and betterment of our amazing country and its people. In receiving your honour, each of you has rendered outstanding service to the community in which you live, and to our country and its people, and in doing so, to the Queen. That is why you were honoured, and you should be proud of your achievements – we are!
While you have all been formally recognised at an investiture ceremony, this dinner is another way that I can, on behalf of Her Majesty and all New Zealanders show our appreciation for what you have done for our country, individually and collectively.
It is also an opportunity to thank those who have a special association to the recipients. Supporting and encouraging these distinguished people to do what they are passionate about is an important contribution. For that, I extend my warm appreciation.
Normally investiture dinners are much smaller in scale, and I am able to introduce each person because they will have been invested at different ceremonies and may not be aware of each other's circumstances. Somehow I don't think that is going to work tonight – not if we want to get our meals before midnight that is!
I would like to take this opportunity to talk about the importance of events 120 years ago, and of what it means for us as a nation today.
Many of us will have grown up with no notion that at one time, women could not vote in national elections. However, when informed that New Zealand was the first country in the world to give women the right to vote in national elections, we beam with pride. For those of us who have grown up in an age of equality, it is hard to fathom just how contentious an issue it was. The time it took for other countries to follow our lead possibly gives an indication of how challenging a prospect votes for women was for political leaders 120 years ago. Australia didn't grant universal suffrage until 1902, the US in 1920 and in Britain it was finally achieved in 1928. What it does suggest is that the political leadership in the 1890s was more enlightened here than anywhere else – well perhaps.
When my predecessor Lord Glasgow signed the new Electoral Act granting suffrage to New Zealand women into law on the 19 September 1893 he was signing something that was really quite radical. However, it did not come easy. Indeed, Lord Glasgow said he was doing it against his better judgement, and that it was "constitutional conventions" that required him to give the Royal Assent. Furthermore, despite two decades of increasingly compelling campaigning, the Bill very nearly came close to failing at the final hurdle.
There had been at least seven previous attempts at enfranchising women before 1893, and some of the Bills had come agonisingly close to passing. By 1887, women mobilised and the first petitions, representing 350 women, were presented to Parliament. In 1888, two more petitions were presented, this time signed by around 800 women. The numbers rose, and in 1892 the House of Representatives received six petitions containing 19,000 signatures. Despite that support the Government remained reluctant to act.
In 1893, New Zealand women showed they really meant business with nearly 32,000 signatures petitioning for the right to vote for New Zealand women. In fact the 31,872 signatures, representing almost a quarter of the female adult population, were gathered in the old fashioned way. Let me remind you that it would be another five years before the first automobiles were imported to this country, so the organisers would have been travelling on foot, on horseback or horse drawn cart, or by boat. It was a major feat of political mobilisation and determination that illustrates an incredible depth of will and support.
The House of Representatives agreed, passing the Electoral Bill with a large majority. The Legislative Council or Upper House was divided and Premier Richard Seddon thought he would be able to stop it there. Reckoning that one more vote was all that was needed to stop the Bill, he talked an absent member of the Council into changing his vote. His machinations so incensed two other Councillors that they changed sides and voted for the Bill allowing it to pass. So essentially the granting of suffrage in New Zealand hinged upon a piece of political intrigue and skulduggery! Once it passed, however, both the Liberal Government and the Opposition tried to take the credit for the Bill's passing and used it in their election campaigns.
Tonight, 120 years after that world first Electoral Bill was signed at 11.45am on 19 September 1893, we acknowledge the efforts of those original women and men who advocated for social change. We take this time to reflect what it meant for New Zealand, having taken the stage as a world leader in women's rights, we acknowledge our trailblazing women.
They include women like Kate Edger, who in 1877 became the first woman in the British Empire to receive a Bachelor of Arts degree, from Auckland University College; Elizabeth Yates of Onehunga, the first woman to be elected mayor in the British Empire in 1893; and Katherine Mansfield, an innovator in writing. They also include women like Ethel Benjamin who in 1897 became the first woman in the British Empire to appear as counsel in court; Dr Nina Muir in 1927, New Zealand's first woman house surgeon, became the first woman president of the Medical Association of New Zealand. In 1941 Edna Pierce walked the beat as the first woman police officer; and Mary Anderson became our country's first woman judge in 1945. Linda Jones was the first woman to apply for a jockey licence in 1976 and two years later Sue Day became the first professional female jockey to ride a winner. Anne Barry became the first woman professional fire-fighter in Australasia in 1981. More recently, in 2001, we were unique in the world in that all the constitutional roles – Head of State, Governor-General, Prime Minister, Leader of the Opposition, Attorney-General and Chief Justice – were all women. You have reaped, indeed we have all reaped, the benefits of living in a world where women and men are equals.
Māori leader, Princess Te Puea, a niece of the third Māori King, once said: "If I were to dream alone, only I would benefit. If we were to dream together, we could achieve anything." Those early advocates of votes for women did not dream alone, instead they harnessed the power of many to evince great change in our society. People working together for the benefit of the whole of society can alter the course of a nation, and the world, and we are the better for it.
The Ministry of Womens' Affairs notes that women are better represented in employment, higher education and parliament than at any other time in our history. When I reflect on the fields in which you have achieved I am mindful that they cover every area of endeavour. It is not that I am surprised; rather it is that as a New Zealander I am proud.
By doing what you do, you have been change makers for your communities, organisations and our country. Like those early suffragists, male and female, you have made a difference and that has been honoured in a very special way.
I will close with a quote from the Bhagavad-Gita: "The gift which is given without the thought of recompense, in the belief that it ought to be made, in a fit place, at an opportune time, and to a deserving person – such a gift is pure."
May all of you, both recipients and supporters continue to enrich the lives of others and yourselves with your actions. Again, thank you for your service, welcome to Government House Wellington and I trust you enjoy our hospitality this evening. Kia ora huihui tātou katoa.
Last updated:
Thursday, 19 September 2013