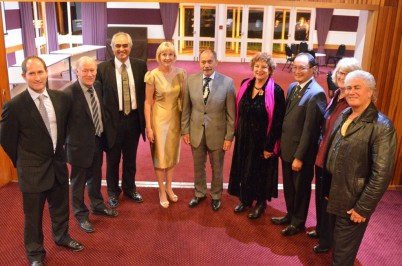 Kia ora tātou. Nga mihi māhana ki a koutou. Warm greetings to you all.
I specifically acknowledge: the MPs present; His Worship the Mayor of Gisborne Meng Foon; Richard Brooking, Chairman of the Te Ha Sestercentennial Trust and your trustees - tēnā koutou katoa.
Thank you for inviting Janine and me here this evening. I am delighted to be involved in launching the Te Ha 1769 Sestercentennial Trust, and initiate the official lead up to the commemoration and celebration of the moment when the destinies of Māori and Pākehā became intertwined.
It is nearly 250 years since Lieutenant James Cook made landfall in New Zealand. The events of the voyage and his first encounters with Māori were well documented in his Journals and by others sailing with him on the Endeavour. Thanks to these eyewitness accounts we have a good idea of the events of the day from a European perspective. Cook's journal describes the initial meeting in great detail. However the plain, detached language used to describe the weather, wind direction and tides of the long sea voyage is exactly the same as that used to narrate the first encounter with the inhabitants of this new land. We have no insight into Cook's thoughts or feelings.
We have even less insight into the other side of the story. The name of the Rongowhakaata warrior who stood on the rock Te Toka a Taiau to share the first hongi with Cook is not recorded in written histories. His act of welcome was far more significant than he could ever have realised. That simple pressing of noses marked the beginning of a shared history between Māori and European, and is honoured today in the name of the Trust - Te Ha, a sharing of breath.
In marking the events of 1769, we will not only be commemorating 250 years of shared history but also establishing legacies that will enhance the economic, cultural and social wellbeing of this region and all of New Zealand. It's an opportunity to commemorate the past and think about our shared future.
It is also a chance to acknowledge and celebrate the Pacific and European voyaging traditions that met for the first time on that day. Cook and his crew sailing in the barque "Endeavour" would have been a strange and frightening sight for the Māori. Some thought it was possibly a floating island while others believed it to be a giant bird .
By the standards of the day, Endeavour was not a large ship. In fact, measuring just 32 metres fore to aft with a beam of just less than 9 metres, she could fit quite comfortably in a modern day Olympic swimming pool. She would, however, have dwarfed the waka used in New Zealand waters.
As different as their customary vessels were, both cultures were the products of a proud tradition of seafaring and adventure. Cook, the man who would sail further than any man had before, expanding the boundaries of the known world; and Māori, the descendants of the brave seafarers who had sailed their waka from Hawaiki to Aotearoa using the stars and currents to navigate across thousands of kilometres of ocean. That relationship with the sea continues to run deep within the New Zealand psyche.
As well as commemorating the moment when two cultures became linked, the Sestercentennial will give us an opportunity to inspire today's youth. As tomorrow's leaders, they need to learn about the beginnings of our nationhood, to appreciate our dual heritage and shared future. It's an opportunity to look at how that relationship has grown and changed over time and think of how it will progress in the next 250 years.
I want to acknowledge Richard Brooking and the trustees who are giving so freely of their time and expertise to ensure these commemorations take place. The trustees, all well respected in their fields, have been tasked with driving this event forward. I trust that their contacts and knowledge will encourage the community to become involved. I thank you all for your commitment and enthusiasm as you spread the message of the Sestercentennial event locally, nationally and internationally.
All New Zealanders have a stake in this exciting and meaningful commemoration. It will give us a moment to pause and consider where we have come from, the voyaging feats of all our ancestors that ultimately led to our nation's existence, the scientific legacies of our forebears and our understanding of what it means to be a New Zealander, to share this land with people who have come here from across the globe for a better life.
He aha te mea nui o te ao? He tangata! He tangata! He tangata! What is the greatest thing on earth? It is people! It is people! It is people!
Kia ora huihui tātou katoa.