Awarua ki te rangi, Awarua ki te whenua, Awarua tāngata.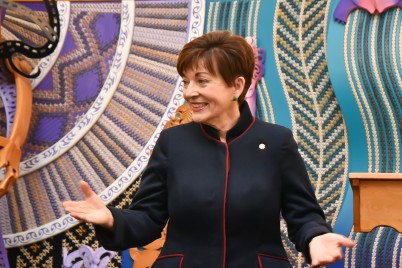 Tahu Pōtiki te tīpuna, tū mai, tū mai, tū mai.
He hōnore nui maaku
Te tū i te taha o nga kuia Rangatira i tēnei rā.
He mea rongo
I ōna wairua,
I ōna mana,
He mana tuku iho nā nga tīpuna o nehe.
Whakatau mai, whakatau mai, whakatau mai.
Awarua in the heavens, Awarua in the land,
Tahu Potiki, the sacred house, that shelters us at this time, I acknowledge you.
I am honoured to be standing with these important ancestors, these kuia whom paved the way for their descendants to be where they are today.
I feel their spirit.  I feel their presence, I feel the ancestral prowess(mana), I see them, in all of you, gathered here today. Thank you one and all.
Thank you for inviting us here today and for your wonderful welcome.
We were very disappointed when we had to postpone our visit here in February.  And I was determined that we should re-schedule it before I leave office at the end of September.   Even if it meant venturing down here in mid-Winter!
Having said that, there was an upside to this postponement – our visit to Aparima and Rakiura in February gave us a taste of the fascinating history of this region – and left us hungry to know more.
And yesterday, we had the most distinguished and informative of guides with us on a visit to Whenua Hou.
Thank you, Tā Tipene, for sharing your insights and encyclopaedic knowledge with us as we stood on the land of your tīpuna.  
We were absorbed by stories from Tane Davis about the bird life and the three beautiful pouwhenua acknowledging Kai Tahu's enduring connection with the island.
And we lost our hearts to Ian, a five year old Kākāpō that we were able to see and smell as DOC rangers changed his transmitter.
Standing here today, I can't help thinking back to February last year, when I participated in the opening of Te Rau Aroha museum on the Treaty Grounds at Waitangi.
Now here we are at the other end of Aotearoa – at Awarua's Te Rau Aroha.
Both locations celebrate values such as aroha, manaakitanga and whanaungatanga and honour those who went before and made us who we are today.
New Zealand history is, of course, a hot topic at present, with the plans to make it part of the school curriculum from next year.
There have already been, and will continue to be, many debates about what should be taught – but one thing is certain – the history of the iwi of each region will be included.
I hope that will be prefaced by an introduction to the fundamental beliefs that underpin te ao Māori, including the notion that we are a part of te taiao, the natural world, and the meaning and value of concepts such as kaitiakitanga, whanaungatanga and manaakitanga.
The young people of Southland will be impressed to learn how centuries ago, Kai Tahu not only ranged far and wide across Te Waipounamu, but also ventured beyond Rakiura, through icy waters to the sub-Antarctic islands and beyond.
They will learn that the Sealers Bay settlement on Whenua Hou was the first integrated Māori and Pakeha settlement in Aotearoa – and that their whakapapa is mingled with bloodlines of diverse peoples from around the world.  Their lives and communities were connected by marriage and mutually beneficial relationships well before 1840.
And the resilience and courage of the tīpuna wāhine who are immortalised in Cliff Whiting's sculptures here, will also be part of that story.
They will learn how your tīpuna's resilience and determination enabled them to survive in a challenging environment and also to find entrepreneurial opportunities for trading when Europeans began visiting Aotearoa. 
Your history will be a portal into an understanding of the past, present and future in Te Waipounamu.
I note that Ruapuke, just a few kilometres offshore from here, was one of just three locations in Te Waipounamu where rangatira were invited to sign a copy of Te Tiriti, in June 1840.
When HMS Herald anchored off Ruapuke, I imagine that your tīpuna wondered just what impact Te Tiriti would have on their way of life.
If they had any doubts, events were to prove them sadly justified.
They couldn't have imagined how many generations of their descendants would have to pursue justice through the courts, following Kemp's Deed and the many and repeated breaches of Te Tiriti by settlers and the Colonial Governments that followed.
As well as learning about the history of Tangata Whenua,  our children also need to learn about Tangata Tiriti, and the wider context surrounding British Treaty-making in the early 19th century.  
About the high hopes of the humanitarian proponents in the British Colonial Office who drafted the initial instructions to Captain Hobson to obtain a treaty with Māori by consent, and who believed in benevolent colonisation and the duty of the British to protect indigenous populations. 
And of the early settlers, epitomised by the New Zealand company, who rejected this Humanist perspective, and were motivated by self interest,  determined to pursue systematic colonisation, which led to a disregard and  dishonouring of those principles and Te Tiriti by successive New Zealand administrations.  
In this regard, I acknowledge and commend the fine Waitangi Day Address delivered here this year by Dr Michael Stephens which was sent to me by Tā Tipene.  He provided a fascinating perspective on Te Tiriti through the prism of the British Empire and the motivations of those who shaped it in the 18th and 19th Centuries.
I hope inclusion of the history of both Tāngata Whenua and Tāngata Tiriti in our education curriculum will lead to an understanding that our history is a complex interweaving of cultures, ambitions and values and our Treaty relationship will always be a continuous conversation.  
The Treaty is indeed an enduring covenant which requires both parties to acknowledge and embrace the principles and concepts on which it is based.
A more informed people are more likely to embrace matauranga Māori and nature-based solutions to the existential challenges we face, and thereby secure a sustainable future for Aotearoa. 
I believe that the Governor-General has a role to play as one of the kaitiaki of the Treaty relationship, given that it was my earliest predecessor, Captain Hobson, who signed it on behalf of Queen Victoria.
As the current representative of our Head of State, the Queen, I have welcomed opportunities to visit marae, to hear about current issues, celebrate successes, and hear about initiatives to restore, protect and promote health, wealth and wellbeing.
Last year I was fascinated to come across a report of a tour made by Premier Richard John Seddon in 1894 to Māori communities in the North Island, where he invited them to air their grievances.
The report was presented to Governor Glasgow, and chronicles Seddon's sometimes arduous journeys to remote locations, by waka, horseback, rail and steamer.
Some of the hui are reported verbatim, including some vivid exchanges of views on grievances that will be all too familiar to Kai Tahu, even today.
Seddon listened to complaints that the promised roads, schools and hospitals had yet to eventuate. There were disputes over land sales and queries as to why court cases involving Māori did not have a Māori judge on the bench.
Over a hundred and twenty years later, that korero continues and our systems continue to evolve, whether it's including tikanga in our judicial  system – or as Justice Sir Joe Williams puts it, bringing Kupe's law and Cook's law together – or the establishment of a Maori Health Authority – or the many debates about lifting Maori educational achievements.
For my part, my engagement with Tangata whenua in my role as Governor General has taught me so much more about this country, our people and our history than I had ever imagined.  For that I owe thanks to many, but I want to acknowledge the wisdom and generosity of Kai Tahu, particularly Tā Tipene and Ranui Ngarimu, who has been my Kuia since 2018.
Over the past five years David and I have been privileged to visit several marae across Te Waipounamu.
Our first powhiri was at Whakatū Marae in Nelson just three days after my swearing in as Governor General in 2016.
The following month we witnessed Kai Tahu manaakitanga at Takahanga after the Kaikoura earthquake;
A few months later we were welcomed at Te Awhina marae in Motueka on a regional visit.
In 2018 we learnt about initiatives to restore the health of Te Waihora and mahinga kai at Ngāti Moki Marae in Taumutu;
We participated in Kai Tahu's 2019 Waitangi Day commemorations at Onuku;
We learnt about Kai Tahu history at Ōtākou; and
About tourism initiatives and the history and significance of pounamu at Arahura.
Looking at the splendour of Tahu Pōtiki here today I can see that we saved the best wharenui for last.
David and I have been keen to see for ourselves what Cliff and Heather Whiting achieved here. I can see that it is imbued with their wairua and the aroha of the dedicated people who helped bring their vision into being.
I am also impressed by the reverence accorded to mana wāhine at Te Rau Aroha.
You will appreciate how keen my late Kaumatua and good friend Piri Sciascia was to get me here.  He knew that I would really appreciate the history and special qualities of Te Rau Aroha.  As always, his advice was impeccable.
I can just hear him saying "It's about time".  I am so sad that he is not here to share this moment with us.
I thank you once again for enabling me to keep my promise to him.
He manawa tahi, he manawa ora, he manawa toa, te manawa Kai Tahu.
Tēnā koutou, tēnā koutou, tēnā tātou katoa.
A united heart, a vibrant heart, a determined heart, this is the heart of Kāi Tahu.Awarua