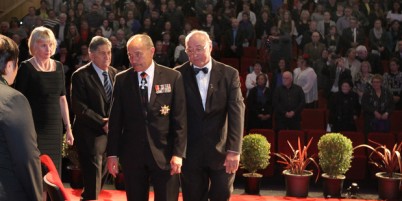 Rau Rangatira mā, o Ngāti Kahungunu Iwi, o te Taiwhenua o Heretaunga, tēnei aku mihi māhana ki a koutou. Me te kaupapa o tēnei hui, te tuku i ngā Tohu Taonga Oranga o Matariki.
Kia ora huihui tātou katoa.

Distinguished people,
Of Ngati Kahungunu tribe,
Of the Region of Hastings,
My warm greetings to you,
And the focus of this meeting,
The presentation of the Matariki Living Taonga Awards,
Greetings to us all.
I specifically acknowledge: Hon Craig Foss, Minister of Veterans Affairs; His Worship Lawrence Yule, Mayor of Hastings; Meka Whaitiri, MP; George Reedy, Chief Executive of Te Taiwhenua o Heretaunga; Sir Pita Sharples and Dame Tariana Turia; and Rangi Whaanga, of the 28th Māori Battalion - tēnā koutou katoa.
Thank you for inviting me and Janine here to this presentation of the Matariki Living Taonga Awards. It's a privilege to be here and to present an award later on this evening.
First, I want to acknowledge the foresight of the people who established Te Taiwhenua o Heretaunga and its kaupapa. "Toi tu te kupu, toi tu te mana, toi tu te whenua". Preserving cultural taonga and empowering whanau of Heretaunga to take their place in the wider world through the promotion of tikanga, arts and culture, business, education, community programmes and social services, resonates with our enduring desire to hold on to our heritage.
The Matariki Living Taonga Awards fit that kaupapa. They are a great way to both acknowledge individual and whanau achievements, and to inspire others to follow along similar paths.
As the Matariki stars come into view in the night sky, it's an opportunity to look back and reflect on where we have come from, where we have come to and where we want to go from here.
I like to think that Matariki and its celebration of culture, heritage and new beginnings has special meaning for us in the 175th anniversary year of the signing of the Treaty of Waitangi and the 40th anniversary year of the great hikoi led by Dame Whina Cooper.
It's also an appropriate time to acknowledge the bright lights in Heretaunga: people who serve others, who make a positive and lasting impact in their communities.
These awards acknowledge how precious those good people are to Heretaunga, and celebrate the importance of whanau, hard work and commitment to the community.
My congratulations to everyone being honoured this evening.
While I have been in Hawke's Bay this week, I have taken the opportunity to look at where we are today. I have reflected on how events have unfolded since my tipuna, Te Hapuku, signed the Treaty of Waitangi on the 24 June 1840.
History tells us that Te Hapuku grappled with huge challenges and change – political, cultural and economic.
It would be fair to say that in 2015, many of those challenges remain. At the same time, I have to say that this week I have observed a strong sense of optimism, of new possibilities and opportunities on the horizon.
In my current role, I have been privileged to see legislation associated with Treaty Settlements. I have seen iwi and hapu taking increasing control of their destinies. I look forward to seeing the same opportunities unfold here and elsewhere. No doubt some of the people honoured this evening will play a part in that future.
Before I conclude, there's one very important task for me to undertake. There's still one award to be given out – Te Mana A Tu-Mata-Uenga – to Rangi Whaanga, very much a living taonga of this region.
It's important that everyone here gets some sense of the extent of Rangi's contribution in our Armed Forces. He joined D Company, 28th Māori Battalion, and served in Italy in 1944 and 1945. He then served in Japan from 1945 to 1947.
He wasn't content to leave things there. He again served, as a gunner this time, in Korea from 1950 to 1953. And then he served as an infantryman in Malaya from 1957 to 1959. I'm told that if he'd had his way, he would've gone to Vietnam too!
This is only the briefest sketch of an action-packed military career and I am sure you have some great stories to tell.
E te toa o Te Ope Māori rua tekau-ma-waru, te tama o Ngati Tumatauenga – e Rangi – kei runga rawa atu koe - tumeke e hoa!
On behalf of everyone here, I thank you for your extraordinary commitment and service to our country. Please come up and receive your award.