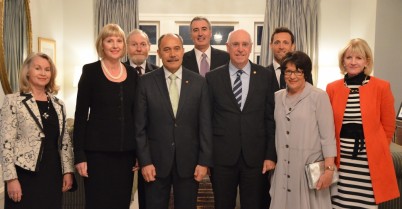 Rau rangatira mā, e kui mā, e koro mā, e huihui nei, tēnei aku mihi māhana ki a koutou. Nau mai, haere mai ra ki Te Whare Kawana o Tamaki Makaurau. Distinguished guests, ladies and gentlemen, warm greetings to you all, and welcome to Government House Auckland.
I specifically acknowledge: Sir Stephen and Lady Margaret Tindall – tēnā korua.
It is a great pleasure for Janine and me to welcome you all to Government House this evening.
This week is Volunteer Awareness Week, when we acknowledge the vital role of volunteers – people who give freely of their time, effort and expertise in the service of others.
It is quite apt then that we host this reception for the Tindall Foundation, which provides support to scores of organisations and the work that volunteers do.
First of all, I want to congratulate Sir Stephen and Lady Margaret for the 20-year milestone reached by the Tindall Foundation this year. We acknowledge you for your vision, leadership and philanthropy.
The Tindalls are an example of what can be achieved through endeavour. They show what those who have achieved financial success can do in their community through generosity, compassion and a sense of social responsibility. The values they hold are evident in the way they support the community, especially those experiencing social hardship.
Sir Stephen's example flows into the way he conducts his business, in his passion for business start-ups, in his fostering of innovation and science and in his determination to use his skills and assets to make New Zealand a better place, in whatever way he can.
It's a testament to his priorities that tonight's 20th anniversary celebrations of the Tindall Foundation are focussed on the work of five organisations the Foundation has supported.
The breadth of organisations that have received support from the Tindall Foundation is extraordinarily diverse. What they have in common is a commitment to improve the future prospects for families, our communities, our environment and our enterprises.
And – to use Sir Stephen's words – they have been chosen for support from the Foundation because they have a "catalytic effect" - bringing about lasting change and opening up exciting new possibilities.
If we look at tonight's award winners, SPACE NZ Trust is a catalyst for the development of our youngest New Zealanders. Further down the track, we can expect massive benefits from the support given to children and their parents in those critical early years.
Not surprisingly, the New Zealand Housing Foundation's success in getting hundreds of families into affordable housing has already proven to be a catalyst for improved health and wellbeing, involvement in community life and school attendance.
The Mountains to Sea Conservation Trust is a catalyst for change in people's thinking about our precious marine environment – and change in thinking is necessary before change in behaviour. The more that people appreciate what lies beneath the waves, the more personal responsibility they will take for looking after it.
Project Lyttelton sounds like a catalyst for vibrant, sustainable, community living. I imagine its mission has become even more important since the Canterbury Earthquakes.
And Bill Holland, of the Acorn Foundation, and Community Foundations of New Zealand has been a catalyst for increased awareness about the power of endowment funds to do good in our communities.
These organisations do terrific work. Congratulations and my sincere thanks to you, on behalf of all New Zealanders.
And my thanks again to Sir Stephen, Lady Margaret, the Tindall family and Foundation, for facilitating the work being recognised tonight. You are fostering a culture of volunteering and the doing of good in New Zealand.
I look forward to hearing Sir Stephen's thoughts on the Foundation and hearing more about the work of the organisations represented here this evening.
Kia ora huihui tātou katoa.