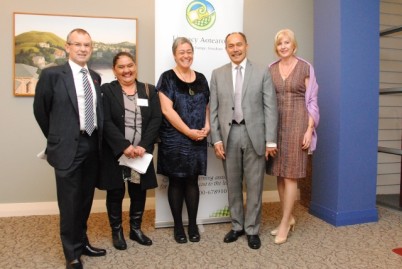 To view more images from the launch, click here
E kui mā, e koro mā, e huihui nei, tēnei aku mihi māhana ki a koutou. Nau mai, haere mai ra ki Te Whare Kawana o Tamaki Makaurau. Ladies and gentlemen, warm greetings to you all, and welcome to Government House Auckland.
I specifically acknowledge: Dame Susan Devoy, Human Rights Commissioner; Margaret Manuel and Dr Kim Currie, Joint Te Kaiwhakahaere of Literacy Aotearoa; Bronwyn Yates, Te Tumuaki of Literacy Aotearoa; Brian Roche, CEO of New Zealand Post, and Metiria Turei, MP. Tēnā koutou katoa.
It is a great pleasure for Janine and me to welcome you back to Government House for the launch of Travelling Books 2013. We're delighted to see this project continue to grow, and the record 10,000 books set to be released this year. Travelling Books sends a very powerful message about the value of literacy and the joy of reading.
For most of us, literacy is something we don't need to think about. Our parents encouraged us to read, and when we went to school, we learned to read. It was easy!
However, it's not that way for everyone. The reasons for a lack of literacy are many and varied, but for the individual the result is the same - a large part of the world is locked away as if behind a very high wall. No matter how capable, no matter how intelligent, those individuals are cut off from achieving their potential. They are cut off from participating fully in the community, simply because they can't read or don't read well.
This has far reaching consequences for their family. As a child's first teachers, parents if they can't read to their tamariki or help them with their homework, lose an important part of the learning process. Literacy is a family affair and it's important that parents have the skills to be able to take a leading role in their child's development.
When I hosted last year's launch here at Government House Auckland, I was struck by the stories of Terrene Gibson and Takirau Rapata1, both of whom had furthered their education with Literacy Aotearoa member providers. It was notable that it was the thought of doing something to benefit their families that started both of them on their literacy pathway, and their sense of pride in what they had achieved shone through. What a great example they have set for their children and grandchildren to follow, not just in learning but in courage, determination and achievement.
They say education is a journey and that is echoed in the Travelling Books project. The ten thousand books will soon be making their own journeys to destinations and individuals unknown. The books come in all shapes and sizes and are about all sorts of different things, but each one carries with it a message. Each is a reminder of the joy of reading.
As far as my own family is concerned, Janine and I love reading and we've encouraged that with our children and grandchild. It's disquieting though when I see some of the statistics around reading particularly those relating to teenage boys. All three of our boys were and remain avid readers.
To me any boy who doesn't take the opportunity to sit with their head buried in a book is missing out. We live in an age, however, where the computer rules. It's not easy to persuade young people that sitting down with a book and letting the mind rather than a machine conjure up the pictures can be an enjoyable experience.
There is a school of thought that says perhaps we are not offering boys the sort of books they want to read. There may be some truth in that. As parents maybe we try too hard to guide them in the direction of 'good' literature or books that we think they should be reading. Our experience has been that finding out what really interested our kids was more likely to motivate them to read. Graphic artist Art Spiegel commented once that he saw comics as a gateway-drug to literacy and if comic books are what it takes to get the reading habit started then we need to embrace that.
After all, comics can be very educational. I learnt my first German phrases via the pages of the "Commando" comic books. Although I would hasten to add that never once during my military career did I get the opportunity to say 'Hände hoch, Ausländer'. As a boy though, that smattering of a foreign language made me feel just a little bit special.
And that's part of the joy of reading. Everything you need to know, from learning a foreign language, to how to cook a meal or fly a plane is contained within the pages of books. With a book in your hand you can be transported to Mars, to the bottom of the ocean or to the icy expanses of the North Pole. You can be a movie star, a cowboy, a servant or a King all without having to leave your own home.
Walt Disney, a man who knew a lot about the power of imagination, once said "There is more treasure in books than in all the loot on Treasure Island." This treasure comes in an easily portable, recyclable container and in the case of Travelling Books is free to go with whoever finds it.
I look forward to hearing more about the destinations of this year's selection of Travelling Books. I hope these books give enjoyment to the keen readers, inspire those are not so keen into giving it another go and give those who need the encouragement to seek the guidance they need so they too can read with their children and grandchildren.
Finally, I trust you enjoy the hospitality of Government House this evening. Kia ora, kia kaha, huihui tātou katoa.
Last updated:
Tuesday, 3 September 2013