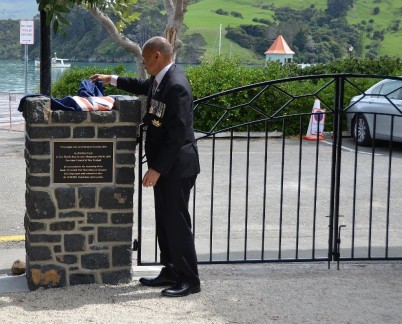 E nga mana, e nga reo, e nga iwi o te motu e huihui nei, tēnei aku mihi māhana ki a koutou. Kia ora tātou katoa.
I specifically acknowledge Hon Amy Adams, MP for Selwyn and Minister of the Crown; Rear Admiral Jack Steer, Chief of Navy; Andrew Turner, Councillor for Banks Peninsula Ward, Christchurch City Council; and Pam Richardson, Chairman Akaroa-Wairewa Community Board, Christchurch City Council; and our war veterans; tēnā koutou katoa.
Thank you for inviting me here today for this special occasion. It's a privilege to join you to unveil the restored Banks Peninsula War Memorial, an important Memorial for this community over many years.
When the remains of your loved ones lie thousands of miles away, whether it be on the former battlefields in Southern Africa, Europe, the Middle East or in the Pacific; and all points between; a memorial like this serves as a sacred shrine to their memory. It is a focus for the community to come together in days of remembrance.
In the last few years I have visited war cemeteries in Gallipoli, France, Italy, and Singapore. It is always profoundly sad to see row upon row of headstones marking the graves of our young men. It is even more distressing to read the long lists of names of the missing on memorials.
Nevertheless, there is some comfort in knowing that the young men and women who have died in the service of our country have been remembered and memorialised in the New Zealand communities where they grew up or lived.
These memorials do not glorify war and we do not come together in that spirit. Rather, they began as testaments to grief, as substitute graves, as places where families could come and pay their respects to their loved-ones.
Over time they also became treasured parts of our cultural landscape and our heritage.
In April I attended the opening of our new National War Memorial Park in Wellington – Pukeahu – and two Anzac Day ceremonies. I was struck by the huge crowds attending, and the tremendous respect they showed for our veterans. It also confirmed for me that these places of remembrance are cherished and valued by New Zealanders.
I can well imagine how upsetting it must have been when your Memorial did not escape unscathed from the earthquakes of 2010 and 2011. And I commend the resolve of local people to see it restored.
I can think of no better way to acknowledge the extraordinary sacrifices made by your forebears and the impact of war on those left behind, in this centenary year of the Gallipoli landings and battles, than to restore this memorial.
A significant challenge for the Akaroa War Memorial Society, it must be a great satisfaction to see it completed. I want to thank the War Memorial Committee for its dedication to restore the memorial.
As it happens, later today I will be attending a service in Christchurch to commemorate ten New Zealand nurses who lost their lives in the sinking of HM TSS Marquette, 100 years ago. That service will include remembering the three nurses – Margaret Rogers, Lorna Rattray and Nona Hildyard - symbolised by white crosses today.
It's a timely reminder of the contribution of over 600 women who served in the Army Nursing Service in the First World War, and of other nurses who went independently to work in Allied hospitals.
Today I would like us to also remember all those New Zealanders who have served in subsequent wars, or have helped in the rebuild of war-torn nations through their work as peace-keepers, particularly those who have paid the ultimate sacrifice. This restored War Memorial gives the people of Banks Peninsular a place to do that.
Kia mau mahara – Lest we forget.