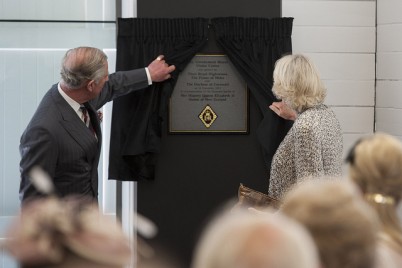 To view more images, click here
To listen to an audio file of remarks by the Governor-General and Prince of Wales, click here
Kia ora koutou. Your Royal Highnesses; former Governors-General; and Ministers of the Crown; ladies and gentlemen greetings and welcome to the opening of the Government House Visitor Centre.
Your Royal Highnesses: On behalf of all New Zealanders, I want to publicly repeat what I said to you on the north lawn earlier; kia ora and welcome to New Zealand.
Your arrival reminds me of a song the New Zealand entertainer, the late Billy T. James, has on one of his albums. It went like this:
Haere mai, everything is ka pai.
You're here at last, you're really here at last
Haere mai, not a cloud in the sky
To coin a phrase, this is the day of days!
Your Royal Highnesses, it's wonderful to have you here representing Her Majesty the Queen of New Zealand in her Diamond Jubilee Year.
From afar we have watched the Diamond Jubilee excitement spread around the world. We have seen the celebrations in London during our Queen's Birthday weekend and during Her Majesty's visits throughout the United Kingdom. And we have seen the excitement as members of the Royal Family have visited Her Majesty's other Realms.
New Zealand is the last destination Your Royal Highnesses are to visit, following earlier visits to Canada and more recently to Papua New Guinea and Australia. Your being here at this time and place presents an opportunity to mark the special regard that we New Zealanders have for Her Majesty.
This Visitor Centre is New Zealand's gift to Her Majesty to mark her 60 years as our Queen. Throughout her amazing life she has remained a constant, inspirational and unwavering advocate of family, friendship and community values.
Her Majesty became our Queen on the death of her father, King George VI on 6 February 1952. The 6th of February has another special significance for New Zealand – it is also Waitangi Day; the day when we began our first steps towards becoming a modern nation in 1840. It is the day that my predecessor, Captain William Hobson, signed the Treaty of Waitangi with 40 Māori chiefs on behalf of Her Majesty's great-great grandmother Queen Victoria. Since that time, the role of the Sovereign's representative has changed as New Zealand has evolved into an independent country.
This Visitor Centre tells that rich and fascinating story. It is a story, populated by men and women - several of whom are here today - who have all made their own contribution to New Zealand, its history and constitution. This Centre will allow that important story to be told to a wider audience, and especially young New Zealanders.
I would know like to invite His Royal Highness to speak, and for Their Royal Highnesses to open the Government House Visitor Centre. Kia ora huihui tātou katoa.
Last updated:
Wednesday, 14 November 2012