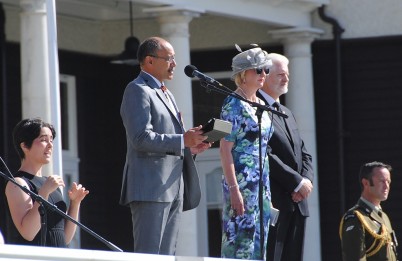 Tihei mauri ora!
E te tini, e te mano,
koutou katoa kua haere mai
ki taku pōwhiri ki te whakanui
i te rā tapu, mo Te Tiriti o Waitangi.
Nau mai, haere mai
ki te whare Kawana o
Te Whanganui a Tara.
Kia ora huihui tātou katoa.
To the many, many people who have come at our invitation to celebrate this sacred day for the Treaty of Waitangi, I welcome you to Government House Wellington. My greetings to all of us who are gathered here.
I would especially acknowledge; our predecessors the Rt Hon Sir Anand and Lady Susan Satyanand and Lady Norma Beattie; the Speaker of the House of Representatives, Rt Hon David Carter; the Deputy Prime Minister, the Hon Bill English and Mrs Mary English; His Worship the Mayor of Upper Hutt, Wayne Guppy and Mrs Sue Guppy; the Bishop of Wellington, the Rt Rev Justin Duckworth and Mrs Jenny Duckworth; Sir Tamiti Reedy and Lady Tilly Reedy; Members of the Diplomatic Corps, Members of Parliament and Member of the Judiciary – tēnā koutou katoa.
Ladies and Gentlemen, thank you for coming from all points around New Zealand – and from overseas – to join Janine and me in commemorating the 175th anniversary of the signing of Te Tiriti o Waitangi – the Treaty of Waitangi.
I extend a special welcome to the 26 newest New Zealand citizens from today's citizenship ceremony here at Government House, and your families.
I want to begin by paying tribute to Lord Bledisloe, Governor-General of New Zealand from 1931 to 1935 – and in whose honour this reception is named.
Bledisloe formed a deep attachment to this country and encouraged New Zealanders to share his keen interest in our history. He recognized the significance of Te Tiriti as a founding document and the partnership it established between Māori and the Crown. He purchased James Busby's house, where the Treaty was first signed – and then, in 1932, presented it along with 1000 acres of reserve land to the people of New Zealand.
Without his foresight and extraordinary act of generosity, the Treaty House would in all probability have disappeared and our tradition of annual Waitangi Day commemorations may not have eventuated.
Until the end of his days, Bledisloe regarded Waitangi as his spiritual home and his spirit certainly lives on in the legacy he left to our nation.
This 175th anniversary is a chance to take stock of where we have come to – and where we are going in the 25 years leading up to the bicentenary of the signing of the Treaty.
Looking back, we can see how much the relationship between the Treaty partners has evolved.
There is an expectation that they will act reasonably and in good faith – and that the Crown has a responsibility to actively protect Māori interests, work to remedy past wrongs and make informed decisions on issues that affect Māori.
There's been considerable progress in Treaty settlements. While it's true to say that they can't undo the wrongs committed in the past, the settlements have gone some way towards restoring an economic, cultural and social base for iwi. All New Zealanders benefit from this progress – as is implied in the whakatauki: Nā tō rourou, nā taku rourou ka ora ai te iwi – with your food basket and my food basket the people will thrive.
By the time of the bicentenary in 2040, I like to think that my mokopuna will live in a New Zealand where we can see the success of post-settlement enterprises reflected in equally impressive social and economic indicators.
2015 is notable for significant commemorations of events in our nation's story: 150 years since the shift of the seat of government to Wellington, 100 years since the Gallipoli landings, 50 years of self-governance for the Cook Islands and 40 years since the hikoi led by Dame Whina Cooper arrived at Parliament. At such times we think about the impact of history, about our role in the world and what this nation stands for.
I also see these milestones of nationhood as opportunities to reflect on the responsibilities and obligations of citizenship – in addition to the rights and privileges that we all enjoy.
Honouring the Treaty will always be one of those responsibilities – by its very nature it must be part of an ongoing dialogue, facilitated by an informed citizenry. In a sense, I like to think that it makes every day Waitangi Day for New Zealanders.
We have made great progress in recent years in terms of public understanding of the Treaty, but we cannot be complacent. When a quarter of our people were born elsewhere, I acknowledge there are ongoing challenges in achieving such understanding. It remains a worthwhile goal for those who choose to live here, wherever they have come from.
We are fortunate to have such a vibrant mix of cultures taking their place in the sun on Waitangi Day. This confirms that Te Tiriti gives all of our citizens the right to call this beautiful country our home.
For some iwi, the Treaty of Waitangi commemorations will be observed at a later date, because the various copies of the Treaty took some months to reach different parts of the country – from Kaitaia to Rakiura - Stewart Island.
Just two days ago I was at the site where the largest gathering of Māori and Europeans came together for one of those occasions - Mangungu, in the Hokianga. Visiting the site, arriving by waka and seeing the table used for the signing brought home what a remarkable scene it must have been on 12 February 1840, when in the presence of several thousand onlookers, more than 60, perhaps 75, rangatira from the region signed the Treaty.
This year I intend to visit other sites where rangatira – men and women - came together to debate what was being proposed to them, and where many of them made the decision to sign the Treaty.
Today, as we celebrate our good fortune to be citizens of this extraordinary and beautiful country, I encourage New Zealanders to visit some of those sites themselves, to immerse themselves in our history and to reflect on our collective responsibility to uphold the special compact that underpins our nationhood.
Again, welcome to you all. I am delighted we can host so many of you to celebrate this very special Waitangi Day. Please enjoy the hospitality of Government House.
No reira, tēnā koutou, tēnā koutou, tēnā koutou katoa.