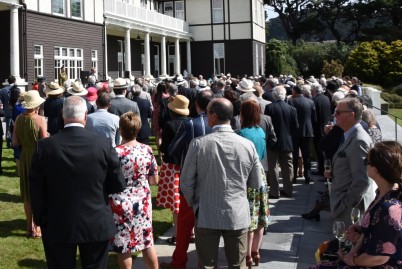 E kui mā, e koro mā, e huihui nei, kia ora tātou katoa. Naumai haere mai ra ki Te Whare Kawana ki Te Whanganui-a-Tara. Ladies and gentlemen, greetings to you all and welcome to Government House.
I specifically acknowledge: Chris Rickett, President of The Wellington Club; and Norma Lady Beattie - tēnā korua.
Janine and I are pleased to welcome you all to Government House, to celebrate the 175th anniversary of The Wellington Club.
A 175-year milestone is a significant anniversary. Very few other New Zealand clubs or organisations are able to trace their origins back to the earliest days of colonial settlement in New Zealand.
When the Club was founded in 1841, recreational pursuits in Wellington were at the fore. The first hurdle race was held at Te Aro Pa, the first cricket club games were played at Thorndon Flats and New Zealand's first sailing regatta took place on the harbour. It was an auspicious year to launch a new club.
The gentlemen founders of The Wellington Club were inspired by the great clubs of London. They were intent on establishing "a club which might promote a spirit of social intercourse among Colonists, and afford a means of shewing hospitality to strangers". They wanted a haven where like-minded people could meet, and visitors to the new colony might be entertained - appropriately.
The hospitality offered by the Club in its earliest days was very different from the splendour of Whites, Brookes and Boodles in London. And while Wellington may have been a ramshackle collection of raupo huts and timber framed buildings, the people who settled here were decent and upstanding. In founding a Club, the founding members had faith that Wellington was a serious proposition.
175 years on Wellington has grown from a ramshackle settlement into an extremely liveable modern city. The names of some of those founding members remain part of the fabric of the modern city, remembered in place names like Stokes Valley and Evans Bay and Molesworth Street and Hanson Street.
Just as the Club has strong links to the city, it also has strong links to the office of Governor-General. It has been customary for Governors-General to be offered honorary membership. It's also often been the case that individuals who have become the Governor-General were members of the Club prior to taking-up office. A group portrait featuring three such living members - Sir Michael Hardie-Boys, Sir Anand Satyanand and myself – is on a wall in the Club. Speaking on our behalf, we are honoured to have our own space in the Club to hang out – so to speak!
A lot has changed over the past 175 years, and the Club has changed too. For example, membership of the Club has broadened, especially with the opening of the Club to women twenty two years ago. What hasn't changed though is the satisfaction people get from being a club member. It is a place of relaxed formality and discretion, a home away from home, a.
Journalist Jonah Goldberg said "Cultures grow on the vine of tradition." The vine of tradition and a hearty culture make the Wellington Club a special place. The Club has a deeply-rooted history in Wellington and its people. It, and its achievements, inspire passion and commitment in club members, and augurs well for its success and continuing presence.
The Wellington Club's continued presence reminds us of the importance of tradition and the value of comradeship. There are many reasons people join clubs, chief amongst them is the opportunity to make new acquaintances, to forge new friendships and to enjoy fellowship.
My warmest congratulations on this 175th anniversary, and all the very best for the next 175 years.
Kia ora huihui tātou katoa.