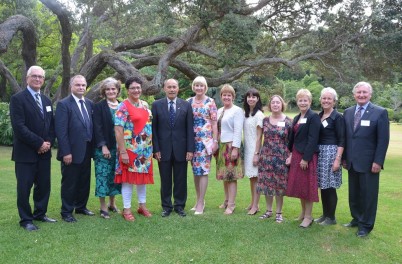 Rau rangatira mā, e kui mā, e koro mā, e huihui nei, tēnei aku mihi māhana ki a koutou. Nau mai, haere mai rā ki Te Whare Kawana ki Tamaki Makaurau. Distinguished guests, ladies and gentlemen, warm greetings to you all and welcome to Government House Auckland.
I specifically acknowledge: Hon Jo Goodhew, Minister for the Community and Voluntary Sector; Penny Hulse, Deputy Mayor of Auckland; Rachael Selby, Chair of the Winston Churchill Memorial Trust Board and your fellow board members - tēnā koutou katoa.
It is a great pleasure for Janine and me to welcome you to Government House today. As patron of the Winston Churchill Memorial Trust, I am delighted to be able to join with you in celebrating the Trust's 50th anniversary. It is a chance for us to look at how the Trust has enriched New Zealand and also an opportunity to commemorate the life of a remarkable man.
On the 30th of January 1965 - 50 years ago - the world paused for a moment as the great statesman Winston Churchill was laid to rest. It was a day of mourning on a scale not often seen. Unusually, Her Majesty Queen Elizabeth II attended Churchill's funeral in what was a gathering of Presidents, Princes and Prime Ministers like no other. Footage of that day, even 50 years on, still hold enormous emotional power.
Amongst the pageantry, the gun salutes and the marching soldiers, it is perhaps the simplest tribute that stands out the most. As Churchill's coffin passes down the Thames, carried by the MV Havengore, London's dockers one by one lower their crane-jibs in a final, moving salute.
It is an unexpected and very human moment. It is a reminder of the huge affection ordinary people had for that extraordinary man. A journalist, soldier and politician, he became Prime Minister not once but twice, and led Great Britain with steely determination through the darkest days of the Second World War. He was a man of great achievement, but someone who knew failure as well. Cast into the political wilderness on more than one occasion, his ability to overcome adversity only enhanced his reputation and the peoples' admiration for him.
Some people have said the death of Winston Churchill marked the day the British Empire died. Indeed, Churchill was under no illusions that the post-war world was going to be a very different place. As he said in 1943, in a speech at Harvard University promoting Anglo-American unity, "The empires of the future are the empires of the mind".
How appropriate then that his life and name should continue to be commemorated with fellowships that encourage the transfer of ideas for the enrichment of others. Under the auspices of the Winston Churchill Memorial Trust, over 800 New Zealanders have been able to travel overseas to investigate areas of interest, bringing back with them fresh ideas and new ways of thinking and doing.
What's also noteworthy is the egalitarian nature of the fellowships. The Trust Board's message to give "ordinary New Zealanders extraordinary opportunities" befits Churchill's "man of the people" status. Certainly while there are Fellows whose names are instantly recognisable like actress Miranda Harcourt and my predecessor Dame Cath Tizard, many more are less well known. What they have in common is the desire to further their knowledge and in turn make a contribution to others in their community, trade, profession, organisation or business.
As we celebrate 175 years since the signing of the Treaty of Waitangi and think about what nationhood means, we can see the value of these interactions. Through the Winston Churchill Memorial Trust New Zealanders have travelled and learned from other nations and cultures, while at the same time giving other nations and cultures the opportunity to glimpse things through Kiwi eyes. The Fellowships, with their link to Churchill and the twin purposes of enabling international understanding and bettering our communities and country, are where our past and future intersect.
Governors-General in New Zealand have had a very close association with the Winston Churchill Memorial Trust. Sir Bernard Fergusson was the chairman of the interim Board of Trustees that appointed the first ten Churchill fellowships. Every Governor-General since has taken on the role of Patron. As Patron, I offer my congratulations to the Winston Churchill Memorial Trust Board on 50 years of successful work.
I particularly thank the five Trustees whose six year terms finish at the end of this year - Rachael Selby, Graeme Hall, Margy-Jean Malcom, Professor Helen Nicholson and Mary Schnackenberg. Your enthusiasm, hard work and commitment, all completely voluntary, have been much appreciated. I thank you, and your fellow Trustees, for your valuable contribution.
We can look forward to another 50 years of achievement by the Trust and its Fellows. It's great to see new initiatives like the Winston Churchill McNeish Fellowship and a partnership with the Hawkes Bay Design Trust coming on line. I wish the Trust well as it moves to increase its funding pool. I'm sure the Fellows here today will find interesting and innovative ways of helping achieve this ambition.
Winston Churchill once said "A good speech should be like a woman's skirt; long enough to cover the subject and short enough to create interest." This speech is fast becoming a maxi skirt so I will draw it to a close. Once again, congratulations to the Winston Churchill Memorial Trust on 50 successful years and here's to many more.
Ladies and gentlemen, the Hon Jo Goodhew. Kia ora huihui tātou katoa.