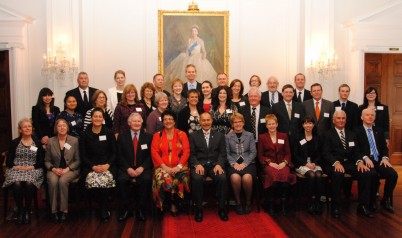 To view more images, click here
Rau rangatira mā, e kui mā, e koro mā, e huihui nei, tēnei aku mihi māhana ki a koutou. Nau mai, haere mai ra ki Te Whare Kawana o Te Whanganui-a-Tara
I specifically acknowledge: Hon Jo Goodhew, Minister for the Community and Voluntary Sector; Patrick Reilly, Deputy British High Commissioner: Colin MacDonald, Chief Executive of the Department of Internal Affairs; Graham Hall, Chairman of the Winston Churchill Memorial Trust Board and your fellow board members - tēnā koutou katoa
It is a great pleasure for me to welcome you to Government House today. As patron of the New Zealand Winston Churchill Memorial Trust this is the first time I have had the privilege of presenting these awards and I am delighted to recognise your achievements in becoming Fellows of the Trust.
When I accepted the role of Governor-General, Janine and I spent time thinking about what was important to us, and how we could help promote things New Zealanders value. Vice-regal patronages are a very important part of our work, and there was much discussion about which patronages Janine and I should accept. There are many more applications for patronage than would be practicable or even feasible for us to take on, so some tough decisions had to be made.
One of the key themes we want to celebrate is service and the role it plays in developing individuals and communities. The Winston Churchill Memorial Trust does great service to this country. It does this by enabling people to travel, learn and bring back knowledge and skills for the benefit of others. These things are central to why I am delighted to continue the long standing association between your organisation and Government House.
It's been nearly 50 years since the Trust was launched. Sir Winston Churchill believed that world peace and greater international understanding could be promoted through ordinary people travelling to other countries and experiencing other cultures. Since 1965 more than 700 people have been given the opportunity to do just that. Some have been well known like former Auckland mayor and New Zealand's first woman Governor-General, Dame Cath Tizard; author and historian, the late Dr Michael King; and internationally acclaimed dancer and choreographer, Michael Parmenter. Others are less well known, but it is a programme that is open to people from all walks of life. A quick look at the list of Fellows in recent years reveals a wide variety of occupations including community workers, engineers, business people, actors, teachers, artists and musicians –a truly diverse group of people.
I read some of the more recent research reports from Fellows and I was impressed by the incredible range of research that has been undertaken. Topics have ranged from the investigation of conserving habitats for fish and improving the status of our albatross, to investigating resource efficiency and best practice in business, to researching the biography of an "extraordinary courageous New Zealand woman", to leveraging commercial opportunities for our historic places. When put with the work of previous Fellows, the breadth of subjects is incredible, and yet quite appropriate given the wide range of interests of the trust's namesake. Churchill was a soldier, an historian, a writer, an artist, an amateur bricklayer and a breeder of butterflies. There was also the not inconsiderable matter of being one of Britain's most distinguished Prime Ministers during one of Britain's most darkest hours.
Churchill was a hugely gifted man who had an enormous influence on history and while not all of us seek to follow in his footsteps as a world leader, we can each be influential in our own way. The Fellowships that bear his name give individuals the opportunity to follow in his footsteps. The Fellowships enable you to expand your horizons and investigate the very latest innovations in your fields of expertise. In turn, there is the expectation that you will return and use this knowledge to contribute to your community and share your influence as widely as you can.
I am reminded of the words of another statesman and Churchill's counterpart, American president Franklin D Roosevelt, who said, "If civilization is to survive, we must cultivate the science of human relationships – the ability of all peoples, of all kinds, to live together, in the same world at peace."
The world today is a very different place from that inhabited by Churchill. As a lifelong scholar he would be delighted by the work done in his name, and perhaps be pleased to share that pride with his US colleague.
I congratulate you all on being selected as Fellows of the Winston Churchill Memorial Trust. It is a prestigious accolade, and you should feel proud of what you have achieved. Always keep in mind though that an achievement like this is not the pinnacle but another step on your journey - while the research is done the important work now begins. As Winston Churchill himself wisely noted "Continuous effort – not strength or intelligence – is the key to unlocking our potential.
I look forward to seeing what initiatives, innovations and influence arise as a result of these Fellowships. Congratulations and good luck for the future.
I now welcome the Minister for the Community and Voluntary Sector, Hon Jo Goodhew