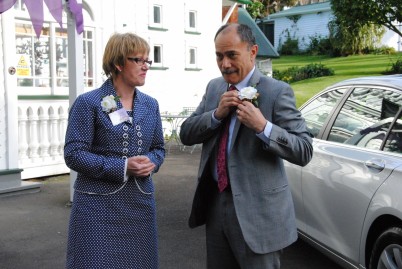 Rau rangatira mā, e kui mā, e koro mā, e huihui nei, tēnei aku mihi māhana ki a koutou. Kia ora tātou katoa. Distinguished guests, ladies and gentlemen, warm greetings to you all.
I specifically acknowledge: the Hon Jo Goodhew, Minister of Women's Affairs and the Members of Parliament in attendance; Jo Cribb, Chief Executive of the Ministry of Women's Affairs; and Major-General Dave Gawn. Tēnā koutou katoa.
I am delighted to be here this afternoon, and so thank you for inviting me to join with you to celebrate a significant anniversary. One hundred and twenty years ago this month, our nation became the first in the world where women had the right to vote in national elections. And this year we at Government House have been using that milestone initiative for all New Zealanders to celebrate our place in the world.
It is hard for 21st century citizens to appreciate how radical a move it was. The time it took for other countries to follow our lead, however, gives an indication of how challenging a prospect votes for women was for the political leaders of that time. Australia didn't grant universal suffrage until 1902, the US in 1920 and in Britain it was 1928.
Today we acknowledge the efforts of those original women and men who advocated social change. We should also take the opportunity to reflect what it meant for New Zealand, for having taken the stage as a world leader in women's rights, we continued to produce trailblazers. Women like Elizabeth Yates of Onehunga, the first woman to be elected mayor in the British Empire; and Katherine Mansfield, an innovator in writing, and many others since. More recently, in 2001, we were unique in the world in that all the constitutional roles – Head of State, Governor-General, Prime Minister, Leader of the Opposition, Attorney-General and Chief Justice – were women.
Women have also achieved in business with people like Dame Roseanne Meo, publisher Dame Wendy Pye and fashion week founder Dame Pieter Stewart among those in my time as Governor General who have received Royal honours, showing us what women are capable of.
While it's good to look back and see where the journey has brought us, it is also important that we consider our destination. One might ask: Is New Zealand a more equal society than it was? Undoubtedly, and yet perhaps not as equal as it could be.
While women are ably represented in many fields, and especially in our universities, for example, they remain noticeably under-represented in senior management positions particularly in the world of business. Figures vary, but surveys show that less than 23 per cent of senior managers in NZX-listed firms are women and the percentage of women directors on company boards is even lower.
This tells us there is still work to be done. It is something that we all can help with. Men and women especially can help change the paradigm by providing an example. Women can make a difference by offering yourselves up as role models and mentors to those who would follow. As American journalist Margaret Fuller said, "If you have knowledge, let others light their candles in it."
You may think that there is not much that you can do or that your contribution is only small. However, as the events of one hundred and twenty years ago have shown us, small things added together can result in great change. There were more than 30 thousand signatures on the petition that was presented to Parliament asking that they grant the vote to women, an amazing feat of organisation and communication given the times. One signature on its own wouldn't have done it but 30,000, each representing the wishes of one person, carried some weight.
Similarly, I am very grateful to women who agreed to mentor some of the young women who have worked for me in the past. I appreciated the gesture, but the women protégés appreciated it more.
Kate Sheppard herself knew well the power of one when she said "Do not think your single vote does not matter much. The rain that refreshes the parched ground is made up of single drops." Sheppard's words remind us that in worthwhile endeavours it is the efforts of one that can make the difference for many. Her words are apposite for us all to remember as we continue this journey.
Kia ora, kia kaha, kia manawanui, huihui tātou katoa