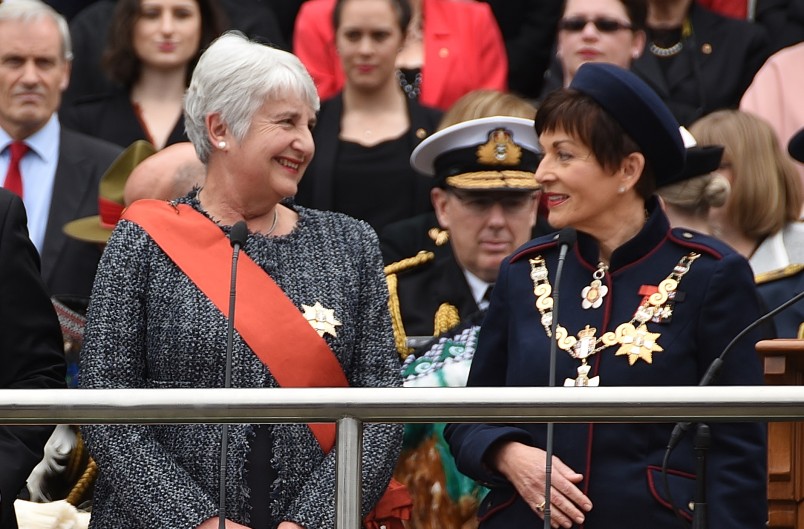 Dame Patsy's term as Governor-General of New Zealand ended on 28th September 2021. Since being sworn in five years ago to the day, Dame Patsy hosted and attended almost 2000 engagements at both Government House Wellington and Auckland, and across every region in the North and South Island. Dame Patsy and Sir David have also represented New Zealand in 15 countries and welcomed 12 Heads of State to Aotearoa New Zealand.
Throughout her term, Dame Patsy's strategic priority was to highlight and celebrate New Zealand's creativity, innovation, leadership and diversity, through the patronage of organisations, the programme of events she hosted at Government House, and her community engagement.
Dame Patsy and Sir David are great supporters of the arts, and in 2017 Dame Patsy opened Aotearoa New Zealand's 8th entry in Italy's prestigious Venice Biennale: Lisa Reihana: Emissaries. The international contemporary art exhibition attracted around 500,000 visitors to see this internationally acclaimed work, which focuses on the early interactions between the indigenous peoples of the Pacific and European colonisers.
2018 saw a year of celebrations to mark 125 years since women were given the right to vote in Aotearoa. On Suffrage Day, Dame Patsy hosted two functions that brought together 46 of the 81 living Dames, to celebrate the contributions and achievements of these outstanding wāhine toa. It was the first time such gatherings had been held.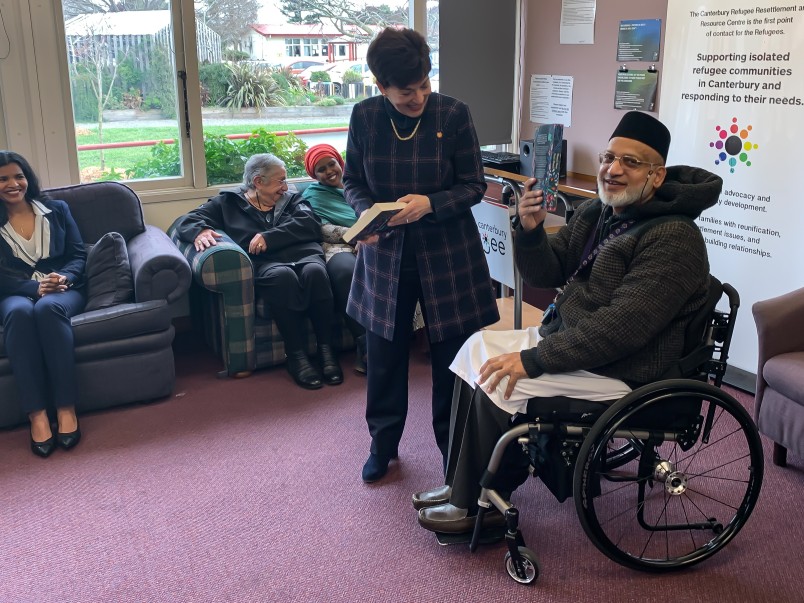 Sustainability, including our responsibility to be better kaitiaki for our environment, was also a focus of Dame Patsy's term. In 2019, Dame Patsy and Sir David hosted an inaugural hui for the Aotearoa Circle, a partnership between private and public sector leaders working towards solutions to the climate crisis. Dame Patsy was co-patron of the organisation, along with prominent environmentalist and businessman Sir Rob Fenwick. Since its launch, Dame Patsy hosted further events with the Aotearoa Circle to help promote and continue its work.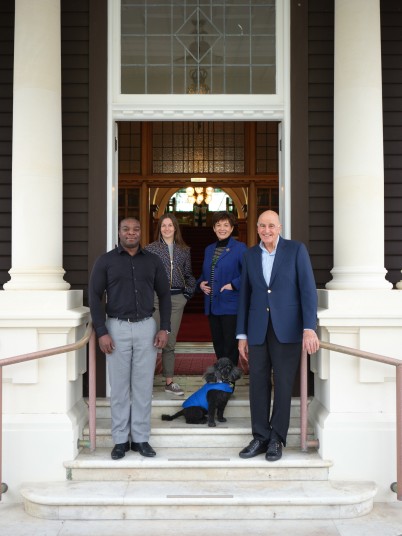 The global Covid-19 pandemic impacted on Dame Patsy's programme in 2020 and 2021, with some engagements and events shifting to the
virtual world
. After the first level four nationwide lockdown, Dame Patsy and Sir David met with people working on the frontline - from St John paramedics, to teachers and supermarket staff - thanking them for all they had done during these difficult times.
In her final year, Dame Patsy became the first sitting Governor-General in living memory to visit Parihaka, the historic Taranaki pā at the centre of peaceful resistance against land confiscations in the 1860s.
Although there was much to acknowledge and celebrate during Dame Patsy's term, it was punctuated by immense tragedy, natural disasters and nationwide emergencies. Dame Patsy and Sir David attended memorials for the Whakaari/White Island tragedy and the Christchurch terror attack in 2019. In 2021 Dame Patsy spoke at the ten-year anniversary of the Christchurch earthquake, remembering the many thousands of lives affected by the 6.2 magnitude quake.
One of the Governor-General's most important roles is to hold investiture ceremonies for recipients of New Year and Queen's Birthday Honours. In total, Dame Patsy held around 170 such ceremonies, celebrating the achievements and contributions of outstanding and deserving New Zealanders. While the majority of the ceremonies were held at Government House Wellington and Auckland, on occasion they were held as far north as Waitangi and as far south as Bluff.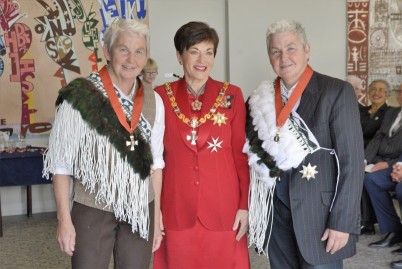 Dame Patsy initiated ways to incorporate more tikanga into the ceremonies. Recipients are now welcomed with a karanga by the kuia, followed by a karakia from the kaumātua.
Dame Patsy ensured that Dames could receive an equivilent recognition to the accolade recieved by Knights. After receiving their insignia, Dames are given the opportunity to wear one of two korowai - Te Iti Kahurangi and Whakaawe Kāpara. Over time, the whakapapa of the korowai will be imbued with the stories of the women whose contributions have helped to shape Aotearoa's social, cultural and political identity.
Here's a look back to some more significant events from Dame Patsy's term as Governor-General:
Events at Government House
Artist in Residence - Troy Kingi Album Preview
Royal Visits
Visit of TRH The Prince of Wales and The Duchess of Cornwall
TRH The Duke and Duchess of Sussex
State Visits
President of Ireland, Michael D. Higgins
HE Frank-Walter Steinmeier, President of the Federal Republic of Germany
President of the Republic of Croatia, Her Excellency Kolinda Grabar-Kitarovic
Regional Visits
Southland, Te Rau Aroha Marae 2021
Overseas Visits
2018 visit to Turkey for ANZAC Day
The naming of HMNZS Aotearoa in Korea
National Events
Royal Assent for the Rua Kenana Pardon Bill at Maungapohatu 2019
Whakaari/White Island Commemoration
New Zealand State Memorial Service for The Prince Philip, Duke of Edinburgh