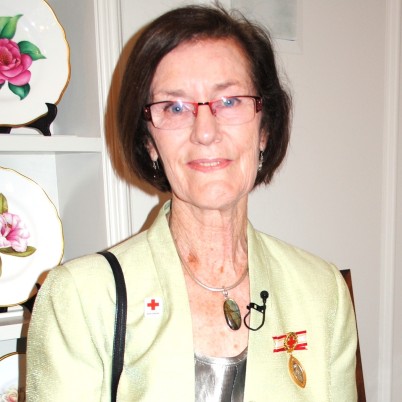 I begin by greeting everyone in the languages of the realm of New Zealand, in English, Māori, Cook Island Māori, Niuean, Tokelauan and New Zealand Sign Language. Greetings, Kia Ora, Kia Orana, Fakalofa Lahi Atu, Taloha Ni and as it is the afternoon (Sign)
I specifically greet you: Penny Mason and John Ware, National President and Chief Executive respectively of the New Zealand Red Cross; Your Excellencies Dr Beat Nobs and Toshihiro Takahashi, the Ambassadors to New Zealand for Switzerland and Japan respectively Sonja Kamana, Acting High Commissioner of the Cook Islands; Joyce Hood, Award recipient; Distinguished Guests otherwise; Ladies and Gentlemen.
My wife Susan and I welcome you to Government House Vogel in Lower Hutt for this presentation of the Florence Nightingale Medal to Joyce Hood.
As Patron of New Zealand Red Cross, I have been asked to present this award to Joyce, and just before I do, I would like to speak if its significance.
The Medal is the highest honour within the International Red Cross Red Crescent Movement for the nursing community and is awarded to those who distinguish themselves in times of peace or war by showing exceptional courage and devotion to the wounded, sick or disabled or to civilian victims of conflict or disaster.
I am told that the International Committee of the Red Cross awards some 50 Florence Nightingale Medals worldwide every two years.
This is the second Florence Nightingale Medal I have had the privilege of presenting, the first being to Marianne Whittington-who I am pleased to see is here with us today-at Government House in Wellington in February 2008.
The Red Cross Red Crescent Movement was established more than 140 years ago. While New Zealand Red Cross was established in 1931 in the aftermath of the Napier earthquake, it had been present here before that time as a branch of the British Red Cross. This year, the New Zealand Red Cross celebrates 50 years of its international humanitarian aid worker programme that sees up to 30 New Zealand aid workers functioning overseas at any one time.
The Red Cross Red Crescent Movement has been guided by seven well-known fundamental principles-humanity, impartiality, neutrality, independence, voluntary service, unity and universality.
In reading of Ms Hood's background, I was struck by how her service has exemplified both those principles and the work of Florence Nightingale herself.
This ceremony is the culmination of 12 years of duty and service to others. I understand you have participated in 11 missions equalling some 80 months-more than six-and-a-half years-in highly volatile areas such as Timor-Leste, Iraq and Afghanistan.
Currently, I understand you are serving as a project manager for a medical training programme in An Najaf in South Western Iraq, where you run courses for doctors and nurses to update their emergency care skills as well as giving bedside teaching.
It is no surprise to me to learn that you have received, on earlier occasions, the New Zealand Operational Service Medal and the New Zealand General Service Medal for your work in Afghanistan.
To close I will quote from this award's namesake, Florence Nightingale, whose 19th Century work founded nursing as a profession. She said of the profession:
"Nursing is an art: and if it is to be made an art, it requires an exclusive devotion as hard a preparation, as any painter's or sculptor's work; for what is the having to do with dead canvas or dead marble, compared with having to do with the living body, the temple of God's spirit? It is one of the Fine Arts: I had almost said, the finest of Fine Arts."
Ms Hood, your service exemplifies a similar "exclusive devotion." You have offered healing and comfort to all without fear or favour or concern for culture, religion or race.
As Patron and Governor-General, I take this opportunity to congratulate you on the honour and to thank you for your outstanding service to humanity.
And on that note, I will close in our country's first language Māori, offering everyone greetings and wishing you all good health and fortitude in your endeavours.
No reira, tēnā koutou, tēnā koutou, kia ora, kia kaha, tēnā koutou katoa.
For more photos, click here.