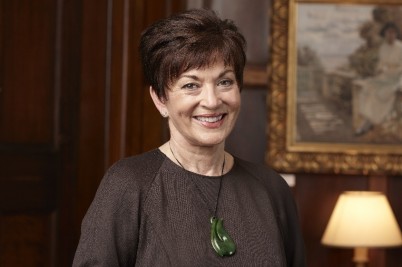 The Governor-General, The Rt Hon Dame Patsy Reddy and Sir David Gascoigne will be making a three day visit to the King Country next week, with events scheduled for Te Kuiti, Otorohanga, Waitomo, Piopio, Taumarunui and the Pureora National Park.
The visit will focus on a number of areas of interest including Maori business, youth and environmental initiatives.
The visit commences on Tuesday 4 April with a powhiri at Te Kuiti Pa. Later Dame Patsy and Sir David will travel to the Otorohanga Kiwi House, where she will name a kiwi chick, before heading to Waitomo for a tour of the magnificent Waitomo Caves. The evening will end with a private dinner with the Mayors of Otorohanga and Waitomo and other community leaders.
On Wednesday 5 April, the programme will start with morning tea with Sir Colin Meads, followed by an opportunity to see an innovative classroom at Te Kuiti Primary School. The afternoon sees Dame Patsy and Sir David talking about boats with the team at Laver Marine Services in Piopio and touring a film location with Hairy Feet Waitomo – Hobbit Film Location Tours. The evening finishes with a reception for representatives of local community organisations.
Thursday 6 April begins at Trade Training, a programme having great success helping young people move into employment, in Taumarunui. Dame Patsy will then meet with the Sustainable Land Management group before attending a lunch with Rural Women, one of her patronages. The final events for the visit will be a bush walk in Pureora National Park and a tour of Pa Harakeke's ginseng factory.
Full Programme:
Tues 4 April
1240 Official Welcome, Te Kuiti Pa
1420 Tour of the Otorohanga Kiwi House, 20 Alex Telfer Drive, Otorohanga
1520 Briefing and tour of the Glow Worm Caves, 39 Waitomo Village Road, Waitomo
1830 Mayoral and Community Leaders Dinner
Wed 5 April
1030 Morning Tea with Sir Colin Meads, Verna Meads and Stanley Meads
1105 Visit an innovative classroom at Te Kuiti Primary School and meet the students, Te Kuiti Primary School, Rora St, Te Kuiti
1350 Briefing and tour of Laver Marine services, 44 Moa Street, Piopio
1440 Presentation and tour of Hairy Feet (RSVP required) 1411 Mangaotaki Road, Piopio
1730 Community Reception, Stoked Eatery, Railway Building No 2, Rora St, Te Kuiti
Thurs 6 April
1045 Visit Trade Training, cnr BP Road and 426 Taupo Road, Taumarunui
1135 Meet with the Sustainable Land Management Group, Council Chamber, Ruapehu District Council Building, Huia Street, Taumarunui
1220 Lunch with Rural Women, Lauren's Lavender, 1381 River Road, Aukopae
1520 Totara Walk, Barryville Road, Pureora Forest
1540 Briefing and Tour of the ginseng plantation, Pa Harakeke, 138 Maraeroa Road Benneydale