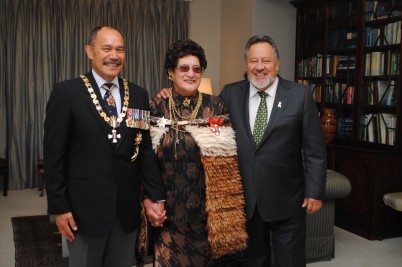 To view more images, click here
Opera singer Dame Malvina Major, fashion designer Dame Pieter Stewart, Māori leader Dame June Mariu, former Deputy Prime Minister Hon Sir Michael Cullen, business leaders Anne and David Norman, former Justice Minister Hon Simon Power and former All Blacks' assistant coach Wayne Smith are among almost 40 people whose diverse achievements will be celebrated at investiture ceremonies at Government House in Auckland this week.
The Governor-General, Lt Gen The Rt Hon Sir Jerry Mateparae, and Lady Janine Mateparae, will host three ceremonies at Government House Auckland on Wednesday 29 August (10am and 2.30pm) and Thursday 30 August (10am).
Dame Malvina will be invested as a member of New Zealand's highest honour, the Order of New Zealand, while Dame Pieter Stewart, Dame June Mariu and Sir Michael Cullen will be invested as Dames or Knights Companion of the New Zealand Order of Merit. Mr and Mrs Norman and Mr Smith will be invested as Companions of the New Zealand Order of Merit while Mr Power will be invested as a Companion of the Queen's Service Order (full list below).
Media wanting to attend must contact Public Affairs Manager, Antony Paltridge, on 021 470583 by 9am on the day of the ceremony. Media are reminded that a reasonable standard of dress is expected at Government House.
Dame Mabel June Hinekahukura Mariu, DNZM for services to Māori and the community
Neville Crichton, CNZM for services to yachting and business
Professor Christine Winterbourn, CNZM for services to science
Hon Simon Power, QSO for services as a Member of Parliament
Leon Blanchet, ONZM for services to athletics
Thomas Gerrard, ONZM for services to education
Colonel Hugh Trengrove, MNZM for services to forensic science
Stephanie Martin, MBE for services to children and families
Judith Eirene Finn, QSM for services to the community
Edward Matchitt, QSM for services to Māori
Nancy Merriman, QSM for services to the community
Kuan Cheong Yap, QSM for services to the community
Squadron Leader Aaron Douglas Benton, DSD for services to the NZDF

Hon Sir Michael Cullen, KNZM for services to the State
Anne Norman, CNZM for services to business
David Norman, CNZM for services to business
Wayne Smith, CNZM for services to rugby
Emeritus Professor Peter Bergquist, ONZM for services to science
Brian Hight, ONZM for services to agricultural publishing
John Pule, ONZM for services as an author, poet and painter
John Thomas, MNZM for services to surf life saving
Dr Robert Morrison, MNZM for services to medicine and the community
Lenh Phong Chin, QSM for services to the Chinese community
Sister Marie Fitzpatrick, QSM for services to the community
Dr Adriana Gunder, QSM for services to the community
Davinder Singh Rahal, QSM for services to the Indian community
Tavale Tanuvasa, QSM for services to education

Dame Malvina Major, ONZ for services to New Zealand
Dame Pieter Stewart, DNZM for services to fashion and the community
Professor Peter Skegg, CNZM for services to medical law
Richard Guy, ONZM for services to rugby
Robert Stanic, ONZM for services to the community
John Gibson, MNZM for services to engineering and the community
Dr James Judson, MNZM for services to intensive care medicine
Ruahine Albert, QSM for services to Māori and the community
Professor Glyn Harper, QSM for services to historical research
Hemi Hema, QSM for services to the deaf
Ariana Simpson, QSM for services to Māori and the community
Mujeeb Syed, QSM for services to the Muslim community