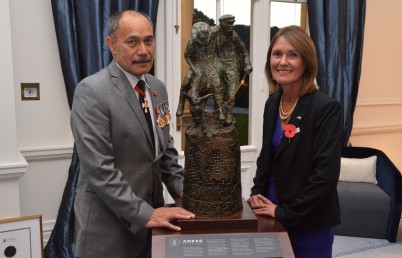 The Governor-General, Lt Gen The Rt Hon Sir Jerry Mateparae presented the 2015 Anzac of the Year Award to Survivor Advocate Louise Nicholas at a function at Government House in Wellington this evening.
The Governor-General's Anzac of the Year Award is presented in partnership with the RSA and was established to recognise the spirit of Anzac evident in New Zealanders today. The recipient must have demonstrated extraordinary courage, compassion comradeship and commitment.
Louise Nicholas was nominated for the award by the Katherine Mansfield Birthplace Society and the judging panel included four prominent New Zealanders, as well as the Governor-General, who acted as Chairperson.
Sir Jerry Mateparae said Ms Nicholas was a worthy recipient of the award.
"Louise embodies all the qualities we look for in the Anzac of the Year. She is an inspiration to other New Zealanders"
Louise Nicholas said at the function that she was honoured and privileged to accept the award and paid tribute to her family for their support.

RSA Chief Executive, David Moger, said Ms Nicholas exemplifies the Anzac values that New Zealanders revere today.
"Louise shows us that the Anzac value of courage is not just displayed on the battlefield, and that standing up for what you know is right, regardless of the personal sacrifice involved, can inspire others to their own acts of bravery."
Citation- 2015 Anzac of the Year
Louise Nicholas
The Anzac spirit is typified by the ordinary person stepping up to do extraordinary things in the service of others and there is no better illustration than Louise Nicholas.
Louise is a survivor of childhood and adult rape. Her decision to go public with her story and seek accountability for what happened to her saw her battle her way through two deposition hearings and five court cases. This in turn led to a full Police investigation "Operation Austin" and a Commission of Inquiry into Police conduct.
Following the trials, Louise worked with the New Zealand Law Commission on a report on the victims of sexual crimes and with a team of legal researchers at Victoria University investigating the same topic. She also worked with the New Zealand Police, educating its officers about sexual crime.
Currently she works within Rape Prevention Education (RPE) as National Survivor Advocate, a role that sees her liaising with survivors, their families and communities all around New Zealand. She represents survivor perspectives in service development and the sexual violence and abuse services sector (networking, providing advocacy and advising). Louise is on the Tauiwi Caucus of the Executive Committee of Te Ohaakii a Hine – National Network Ending Sexual Violence Together.

She was voted NZ Herald's New Zealander of the Year 2007 and was also placed in the top 10 as one of "New Zealand's Living Treasures".