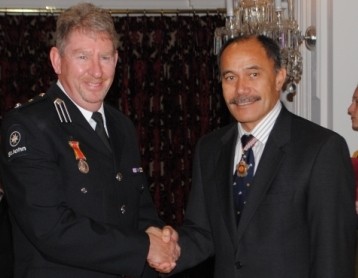 To view images from the ceremony, click here
The bravery of five people will be recognised by Governor-General, Lt Gen The Rt Hon Sir Jerry Mateparae, at a ceremony in Wellington on Wednesday (19 September 2012).
The Governor-General will host an award ceremony for the Royal Humane Society of New Zealand at Government House Wellington. As Patron of the Society, Sir Jerry Mateparae will present individual Silver Medals to Godfrey Evans, Kima Sampson, Dean Herrick, Geoffrey Taylor, and Stephen Smith, in recognition of civilian bravery.
Those being honoured were involved in three separate incidents where they put their own lives at risk to save others. Godfrey Evans saved an elderly man from a house fire in Rangiora on 29 September 2009. Kima Sampson also saved a man from a house fire in Trentham on 5 September 2010. Dean Herrick, Geoffrey Taylor, and Stephen Smith performed a dangerous helicopter rescue in rough seas and deteriorating weather, saving the life of a solo yachtsman about 62 nautical miles off Cape Kidnappers, on 11 October 2011.
Since its inception in 1898, the Society has bestowed 2094 awards for acts of bravery where the rescuers have put their own lives at risk to assist others whose lives were in peril. Some 21 gold medals, 224 silver medals and 711 bronze medals have been issued to date.
The ceremony will begin at 2pm on Wednesday 19 September 2012.
Read the citations here by clicking here
Media wanting to attend must contact Public Affairs Manager, Antony Paltridge, on 021 470 583 by 9am on the day of the ceremony. Media are reminded that a reasonable standard of dress is expected at Government House.
Last updated:
Monday, 17 September 2012