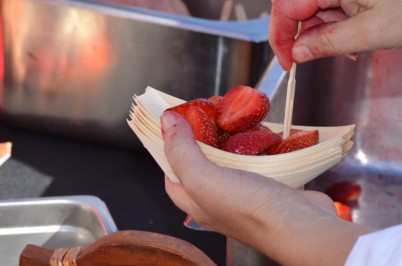 A ballot for invitations to next year's Waitangi Day Bledisloe Reception at Government House in Auckland will open online on Friday 13 November at 12 noon.

Government House first held a ballot for the reception last year, with around 2,000 people registering for invitations. The enthusiastic response was a deciding factor in the return of the ballot.

Government House Official Secretary Greg Baughen said he was expecting just as much interest in the 2016 event.
"People were really excited to have the opportunity to attend a reception at Government House and we were delighted to be able to share Waitangi Day with them. It will be wonderful to bring some of the magic of this year's event to Government House in Auckland in 2016."

Mr Baughen said the reception, to be hosted by the Governor-General, Sir Jerry Mateparae and Lady Janine Mateparae, will be a very special way of bringing New Zealanders together to celebrate New Zealand's national day.

Due to the smaller size of the grounds at Government House in Auckland, only 200 invitations will be made available to ballot entrants. The ballot opens at 12 noon on Friday 13 November, 2015 and will close at 12 noon on Friday 20 November, 2015. 200 people will be selected at random from the ballot to attend the reception, which will be held on Waitangi Day next year (Saturday 6 February, 2016). Each of them will be able to nominate a guest to attend with them.

People entering the Bledisloe Reception ballot are required to be 18 and over, although they may nominate a guest who is under 18. While the ballot is open to people throughout New Zealand, those from outside Auckland will need to arrange and pay for their own transport and accommodation.

More information on the terms and conditions relating to the ballot and the link to the online entry form will be available on the Governor-General's website from midday on Friday 13 November, 2015 .