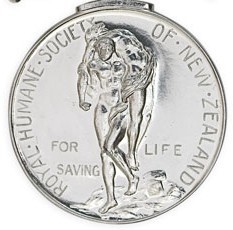 On Monday 6 December, the Governor-General will attend an award ceremony for the Royal Humane Society of New Zealand at Invercargill City Council Civic Administration Building.
As Patron of the Society, the Governor-General will present a Silver Medal to Gregory Jonathon Alistair Larkin.
On 4 January 2010, at Peketa Beach near Kaikoura, Greg Larkin and Barry Robertson, who will be awarded a Certificate of Merit in a separate ceremony, noticed a small boat and people in the water, in treacherous conditions.
Greg Larkin, 36, took a surfboard and dived through the shore break to rescue the woman struggling against the big current and waves, whilst Barry Robertson remained within the dumping shore break to grab them when they came back through. Together, these two men, and the woman they rescued, were dragged to safety by others on the shore, using a rope.
Greg Larkin put himself at extreme risk, together with Barry Robertson, who was also at risk in difficult conditions, assisted in saving this woman's life.
Since its inception in 1898, the Society has bestowed 2057 awards for acts of bravery where the rescuers have put their own lives at risk to assist others whose lives were in peril. Some 20 gold medals, 217 silver medals and 696 bronze medals have been issued to date.
The ceremony will begin at 10am on Monday 6 December 2010 at Invercargill City Council Civic Administration Building. Media wanting to attend this ceremony must contact Jill Hoffman on 03 211 1672, by 9am, 6 December, to register their attendance. Media are reminded that a reasonable standard of dress is expected.
For more information please contact Rebekah Clement, Public Affairs Advisor, Government House on 021 243 7958.