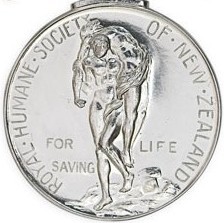 Two courageous men, who put their own lives at risk to save others, are to be recognised by Governor-General, Hon Sir Anand Satyanand, at a ceremony in Christchurch this week.
Tomorrow (Tuesday 9 February), the Governor-General and Lady Susan Satyanand will host an awards ceremony for the Royal Humane Society of New Zealand at the Canterbury Club in Christchurch.
As Patron of the Society, the Governor-General will present medals to two people involved in separate incidents. They were:
• A silver medal to Allan Maxted (Amberley) who went to the aid of a driver in a burning car that had struck a power pole on Douglas Road, Amberley on 1 July 2008. Soon after the driver was rescued, the car was engulfed in flames.

• A silver medal to Mackey Pouwhare (Blenheim) who rescued three children from a crash site which brought down three 6,500 volt wires in Cravens Road, Blenheim on 22 November 2008.

Since its inception in 1898, the Society has bestowed 2038 awards for acts of bravery where the rescuers have put their own lives at risk to assist others whose lives were in peril. Some 20 gold medals, 212 silver medals and 695 bronze medals have been issued to date.

The ceremony will begin at 2.30pm on Tuesday 9 February 2010 at the Canterbury Club. Media wanting to attend this ceremony must contact Rebekah Clement, Public Affairs Advisor on 021 243 7958 by 12pm on 9 February to register their attendance.

Media are reminded that a reasonable standard of dress is expected at the Canterbury Club.