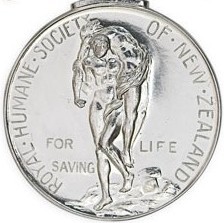 The Governor-General will attend a ceremony for the Royal Humane Society of New Zealand at the Taupo District Council Chamber this afternoon.
As Patron of the Society, the Governor-General will present a silver medal to Tony Holt who, on 1 March 2009, witnessed a car roll on Whangamata Road near Kinlock and went to the aid of a mother and daughter, pulling both to safety as the car became engulfed in flames and exploded seconds after rescuing them.

Since its inception in 1898, the Society has bestowed 2040 awards for acts of bravery where the rescuers have put their own lives at risk to assist others whose lives were in peril. Some 20 gold medals, 214 silver medals and 695 bronze medals have been issued to date.

The ceremony will begin at 2.30pm on Friday 28 May 2010 at the Taupo District Council Chamber. Media wanting to attend this ceremony must contact Suzanne Takiwa, Communications Manager at Taupo District Council on 0212 273 781 by 12pm on 28 May to register their attendance.

Media are reminded that a reasonable standard of dress is expected.

For more information please contact Rebekah Clement, Public Affairs Advisor, Government House on 021 243 7958.