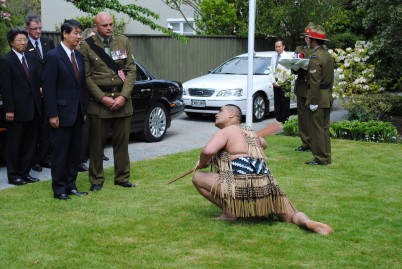 To view photos from the ceremony, click here
New ambassadors for Japan and France will present their credentials to the Governor-General, Rt Hon Sir Anand Satyanand, at Government House Vogel in Lower Hutt today (Thursday, 28 October 2010).
The ceremony will begin at 11:00. The New Zealand Army will provide the Māori Ceremonial Challenge and the Guard of Honour at tomorrow's ceremony.
Mr Hideto Mitamura is a career diplomat who, after entering Japan's foreign service in 1971, has served in a number of offshore postings and senior positions in Japan – most recently completing a term as Japan's Ambassador to Zambia. Mr Mitamura will be resident in Wellington.
The Ambassador of the French Republic, Mr Francis Etienne, will also be resident in Wellington. Mr Etienne has served both as a diplomat and as a senior public servant in France. He comes to New Zealand after several years as Director of France's Immigration Department.
For further information please contact:
Chris Wilson - Communications Adviser
Ministry of Foreign Affairs and Trade
04 439 8138 or 021 375 105
Last updated:
Thursday, 28 October 2010