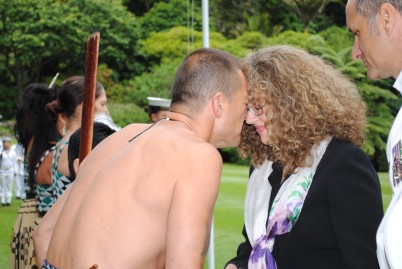 For more photos, click here.
New ambassadors for the Islamic Republic of Iran; the Republic of Serbia; the Republic of Kenya; Bosnia and Herzegovina and Burma will present their credentials to the Governor-General, His Excellency the Rt Hon Sir Anand Satyanand, GNZM, QSO at Government House Auckland today.

The Royal New Zealand Navy will provide the Māori Ceremonial Challenge and the Guard of Honour at this morning's ceremony.

The new Ambassador of Iran, HE Seyed Majid Tafreshi Khameneh, is a career diplomat who has arrived in New Zealand after a series of senior appointments in Iran's foreign ministry in Tehran. He has recently completed a doctorate in international law. Ambassador Tafreshi, who has had previous postings in Finland and New Zealand, will be resident in Wellington.

The Ambassador of Serbia, HE Ms Neda Maletić, is an academic who has taught English language and literature, drama and performance studies. She has been posted to the Serbian mission in London, and most recently served as State Secretary of the Ministry of Diaspora in Belgrade. Ms Maletić will reside in Canberra, where she is concurrently Ambassador of Serbia to Australia.

The High Commissioner of Kenya, HE Mr Stephen Kipkiyeny Arap Tarus, has a background as a teacher and university administrator. He has also been a Member of the Kenyan Parliament and served as an Assistant Minister in several portfolios in his home country. Mr Tarus is concurrently the High Commissioner of Kenya to Australia, and will be resident in Canberra.

Also based in Canberra is the new Ambassador of Bosnia and Herzegovina, HE Dr Damir Arnaut. Dr Arnaut is an international law expert and has lately been a senior advisor on constitutional affairs to the Presidency of Bosnia Herzegovina. Dr Arnaut holds a doctorate in law from the University of California Berkeley, and has acted as senior counsel in cases heard before the International Criminal Court, International Court of Justice and European Court of Human Rights, as well as having published several papers on international maritime law.

The Ambassador of Burma, HE Mr Paw Lwin Sein, is a career diplomat who has previously been assigned to Manila, Washington and Moscow. Originally a lawyer, Mr Paw started his career in the office of the Judge Advocate General in Burma's Ministry of Defence. His most recent position, prior to taking up his new assignment, was as Secretary of the Myanmar Institute of Strategic and International Studies. Ambassador Paw will reside in Canberra, where he will also be accredited as Ambassador of Burma to Australia.
For media wanting to attend the ceremony, please contact Rebekah Clement, Public Affairs Advisor, Government House on 021 243 7958
For further information please contact:
Chris Wilson - Communications Adviser
Ministry of Foreign Affairs and Trade
04 439 8138 or 021 375 105