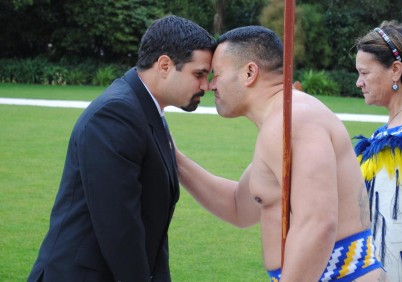 To view images from the ceremony, click here
Envoys for Thailand, Israel and Norway will present credentials to Governor-General, Hon Sir Anand Satyanand, at Government House Vogel in Lower Hutt tomorrow (7 May).
The ceremony will begin at 11 am. The New Zealand Army will provide the Maori Ceremonial Challenge and the Guard of Honour at tomorrow's ceremony.
Mr Noppadon Theppitak, Ambassador of the Kingdom of Thailand, is a career diplomat resident in Wellington. Prior to taking up his assignment in Wellington he was Ambassador in Cairo, Egypt.
Mr Shemi Tzur, Ambassador of the State of Israel takes up his appointment at the newly opened Embassy in Wellington. He is a career diplomat having had many Ambassadorial positions.
Mrs Siren Gjerme Eriksen, Ambassador of the Kingdom of Norway, is also Ambassador to Australia and is resident in Canberra. Prior to this assignment Mrs Eriksen was Deputy Director General (Disarmament, Non-Proliferation and Export Control) at the Ministry of Foreign Affairs in Oslo.
For further information please contact: Dave Courtney – Communications Adviser, Ministry of Foreign Affairs and Trade on (04) 439 8138 or (021) 375 105
Media wishing to attend the ceremony must contact: Antony Paltridge, Public Affairs Manager on or (021) 470 583