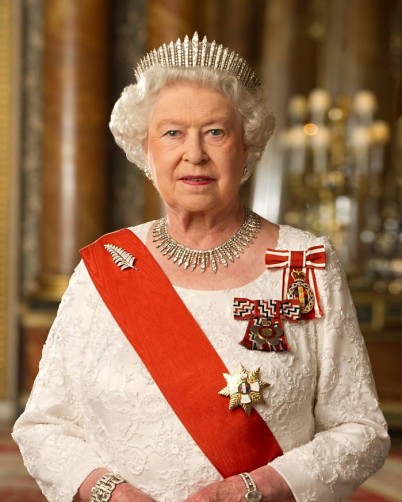 To mark the Queen's Diamond Jubilee, new official portraits of Her Majesty Queen Elizabeth II and the Duke of Edinburgh wearing their New Zealand honours have been released.
The photographs were taken by London-based photographer, Julian Calder, in the Blue Room of Buckingham Palace last year.  They picture The Queen wearing the Sovereign's insignia of the Order of New Zealand, the New Zealand Order of Merit, Star, Sash and Badge and The Queen's Service Order.  The Queen wears the Diamond Fern brooch presented by the women of Auckland in 1953 on her right shoulder.
The Queen is also wearing the historic Hanoverian Fringe Tiara and matching necklace.  The Tiara was made in 1830 from diamonds in the possession of King George III, and inherited by Queen Victoria.  The Tiara was worn by The Queen on her wedding day on 20 November 1947.  It previously had been worn by her grandmother, Queen Mary, and her mother, Queen Elizabeth.  The necklace was made for Queen Victoria from stones from other items.
The Duke of Edinburgh is in the uniform of an Admiral of the Fleet in the Royal New Zealand Navy (appointed 1958).  This uniform is identical to that worn as an Admiral of the Fleet in the Royal Navy, to which rank he was appointed in 1953.  The Duke's medal bar gives pride of place to the Badge of a Companion of The Queen's Service Order, to which he was appointed in 1981.
Buckingham Palace has also issued a prayer, written at The Queen's direction by the Chapter of St Paul's Cathedral for Her Majesty's Diamond Jubilee, and will be used in the Jubilee Thanksgiving Service in St Paul's Cathedral on Tuesday 5 June.  The Archbishops of Canterbury and York have commended it for use throughout the Church of England.  Other churches are also welcome to use the prayer.  
For more information, contact Public Affairs Manager Antony Paltridge on 04 382 0844 or 021 243 7958