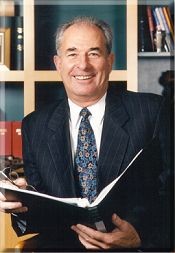 The Governor-General, Hon Anand Satyanand, will host a special investiture tomorrow evening (27 February 2009) at Government House Auckland for former Commonwealth Secretary-General and Deputy Prime Minister, Rt Hon Don McKinnon.
Mr McKinnon was made a Member of the Order of New Zealand (ONZ) in the 2008 New Year's Honours list for services to New Zealand. The Order is New Zealand's highest honour and ordinary membership is limited to 20 living individuals. Mr McKinnon will receive the Badge previously worn by Fred Turnovsky and Sir Roy McKenzie.
Mr McKinnon was a Member of Parliament from 1978 to 2000. In the course of a lengthy parliamentary career, he was the longest serving Minister of Foreign Affairs and Trade from 1990 to 1999 and held a number of other portfolios. He also served as Deputy Prime Minister and Leader of the House. He was appointed a member of Her Majesty's Privy Council in 1992.
As Foreign Minister, Mr McKinnon developed close Commonwealth links, served as the Deputy Chairperson of the Commonwealth Ministerial Action Group on the Harare Declaration, and chaired the Small States Meeting at the Auckland Commonwealth Heads of Government Meeting in 1995. He was appointed to the five-member Commonwealth Ministerial Mission on Small States in 1998. He initiated a number of actions as Foreign Minister, including the successful campaign for a seat on the Security Council, and the deployment of New Zealand peacekeepers to a number of countries. He was nominated for the Nobel Peace Prize for his work in initiating and overseeing the ceasefire between the people of Bougainville and the Papua New Guinea Government in 1997.
Mr McKinnon served as Commonwealth Secretary-General from 2000 to 2008. Mr McKinnon's achievements as Secretary-General included modernising the organisational structure of the Commonwealth Secretariat, building strategic partnerships with other international organisations, promoting youth programmes, and defending the rights of small states. He also promoted the establishment of a fair, rules-based multilateral trading system, ensuring the interests of developing countries are reflected in international trade talks.
The investiture ceremony will be at 6pm and media wanting to attend this ceremony must contact Antony Paltridge, Public Affairs Officer by 12 noon on 26 February.
Last updated:
Thursday, 26 February 2009