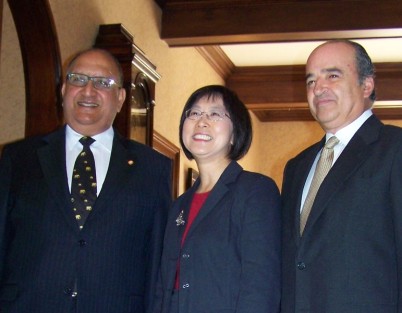 The High Commissioner for the Republic of Cyprus and Ambassadors of the European Commission (EU) and Republic of Colombia will be the first envoys to present credentials to Governor-General Anand Satyanand at Government House Vogel in Lower Hutt.
The ceremony will begin at 11:20am today (17 February).
With the closure of Government House Wellington late last year for a three-year conservation project, when resident in the capital, the Governor-General and Mrs Satyanand will live at Vogel House, which has been renamed Government House Vogel in the interim.
The New Zealand Air Force will provide the Maori Ceremonial Challenge and the Guard of Honour at tomorrow's ceremony.
Yannis Iacovou is Cyprus's High Commissioner. A career diplomat, he has had previous postings in Nicosia, New Delhi, Athens, London and Copenhagen, and as Ambassador to Libya.
David Daly is the new EU Ambassador. He joined the EU 20 years ago and previous roles include five years as textiles trade negotiator. He has previously been posted to Budapest.
Diego Betancur, pictured after the ceremony with the Governor-General and Hon Pansy Wong, Minister for Ethnic Affairs, is the Ambassador of Colombia. He has a private sector background across a number of disciplines including trade, media, public relations and construction.
All three are cross accredited from Canberra.
For further information please contact: Emma Reilly - Media adviser, Ministry of Foreign Affairs and Trade on (04) 4398777 or (021) 375105
Media wanting to attend the ceremony should contact: Antony Paltridge, Public Affairs Officer, Government House on (04) 382 0827 or (021) 470 583
Last updated:
Tuesday, 17 February 2009