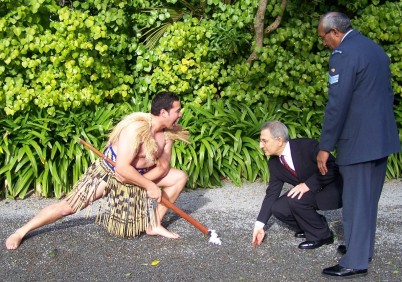 Ambassadors for Turkey, Brazil, Cambodia and Romania will present credentials to Governor-General, Hon Sir Anand Satyanand, at Government House Vogel (Lower Hutt) today (8 July).
The ceremony will begin at 11am. The New Zealand Air Force will provide the Māori Ceremonial Challenge and the Guard of Honour at tomorrow's ceremony.
Mehmet Taser is a career diplomat who has had postings in Europe and the United States. Prior to his arrival in New Zealand, Mr Mehmet was a member of the Inspection Board and Coordinator for Multilateral Balkan Affairs at the Turkish Ministry of Foreign Affairs.
Renate Stille was Brazilian Ambassador to Armenia until recently, and is also a career diplomat. She has served at a number of Brazilian diplomatic missions in South America and Europe.
Cambodia Ambassador to New Zealand, Chum Sounry, is also Cambodia's Ambassador to Australia. Prior to his New Zealand appointment, Mr Chum was Director of Personnel in Cambodia's foreign ministry in Phnom Penh.
Romanian Ambassador Mihai Stuparu has had extensive experience as a career diplomat in the Middle East, his most recent overseas assignment being as Ambassador of Romania to Iraq. He is also accredited as Romania's Ambassador to Australia.
Mr Taser and Mrs Stille are based in Wellington. Mr Chum and Mr Stuparu are resident in Canberra.
To view images from the ceremony, click here
For further information please contact: Emma Reilly - Media adviser, Ministry of Foreign Affairs and Trade on (04) 4398777
Media wishing to attend the ceremony contact: Antony Paltridge; Public Affairs Officer, Government House on (04) 382 0827 or (021) 470 583