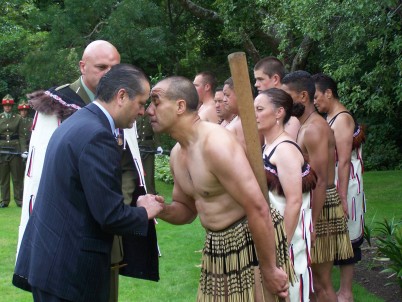 The High Commissioner for the Republic of Sierra Leone, Ambassador of the Union of Myanmar and Ambassadors for the Republics of Guatemala and Croatia will present credentials to Governor-General Anand Satyanand at Government House Vogel (Lower Hutt) tomorrow (5 March).
The ceremony will begin at 11am. The New Zealand Army will provide the Maori Ceremonial Challenge and the Guard of Honour at tomorrow's ceremony.
Abdul Karim Koroma is Sierra Leone's High Commissioner. He has held ministerial portfolios including foreign affairs and education during his 32-year political career, before his recent appointment as Ambassador to China and High Commissioner to New Zealand.
Hla Myint is Ambassador of the Union of Myanmar. A career diplomat, he has had previous postings in Geneva, New York and South Africa. He has been Ambassador to Australia since 2007.
Byron Rene Escobedo Menendez is the Guatemalan Ambassador. In addition his Foreign Service career, he has a legal and academic background. Previous postings include Spain and South Korea. He was appointed Ambassador to Japan in last May.
Vicencije Biuk is the new Croatian Ambassador. He comes from a varied professional background including academia and politics at both the local and national levels. Mr Biuk was recently appointed Ambassador to Australia.
Dr Koroma is accredited from Beijing, Mr Menendez from Tokyo and Mr Myint and Mr Biuk from Canberra.
To view more images from the Credentials ceremony, click here.
For further information please contact: Emma Reilly - Media adviser, Ministry of Foreign Affairs and Trade on (04) 4398777
Media wishing to attend the ceremony contact: Antony Paltridge; Public Affairs Officer, Government House on (04) 382 0827 or (021) 470 583