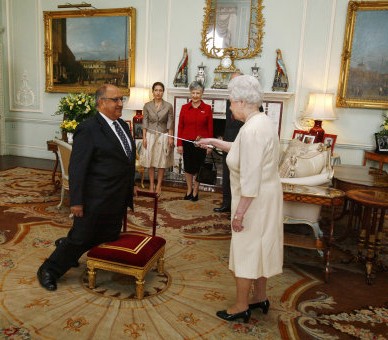 The Governor-General, Hon Sir Anand Satyanand, will formally receive the "accolade of knighthood" from the Queen in London.
Following their State Visit to Turkey, where they represented New Zealand at the ANZAC Day commemorations at Gallipoli and undertook meetings in Ankara with the President, the Governor-General and Lady Satyanand, will fly to London for a private ceremony at Buckingham Palace tomorrow (29 April) at 1pm GMT (midnight NZ time).
The ceremony follows the Queen's approval of the New Zealand Government's decision in March to reinstate titular honours as a part of the New Zealand Royal Honours system. As a part of those changes, the Queen approved the redesignation of the Governor-General, who is the Chancellor of the New Zealand Order of Merit, from a Principal Companion to a Knight Grand Companion of the Order.
The Governor-General said he looked forward to receiving the accolade from the Queen.
While in London, the Governor-General will also attend a reception at Buckingham Palace this evening (28 April), hosted by the Queen, to mark the 60th anniversary of the founding of the modern Commonwealth of Nations.
To see an image from the ceremony, click here.
For further enquiries contact: Antony Paltridge, Government House, 04-382-0827 or 021 470 583