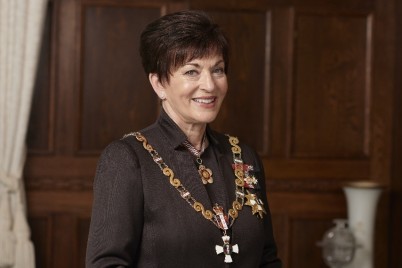 Innovation, technology and environmental initiatives will feature in the upcoming visit of the Governor-General, The Rt Hon Dame Patsy Reddy and husband Sir David Gascoigne to the Nelson/Tasman region next week.
The three-day visit will be the first regional visit by Dame Patsy since beginning her term at the end of August. Her aim is to visit every region of New Zealand before her term finishes in 2021.
The visit commences with a dinner with Rachel Reese, Mayor of Nelson City, Richard Kempthorne, Mayor of Tasman District and other community leaders on Wednesday 16 November.
On Thursday 17 November, Dame Patsy and Sir David will start the morning at the Nelson Marlborough Institute of Technology where they will visit the Innovation Hub and Maritime Simulator before departing for a tour of the Suter Art Gallery.
Thursday lunchtime will see them attending a reception for local winegrowers at Greenhough Vineyard. Later they will visit business success story Pic's Peanut Butter, with Cawthron Institute's scientific innovation rounding off the afternoon.
In the evening, Dame Patsy and Sir David will host a community reception for invited guests from local community organisations and businesses at The Boathouse.
Music and the environment will be on the agenda at Nayland College on Friday morning (18 November), with Their Excellencies meeting with junior students to discuss their tree planting and water monitoring projects and then attending a short concert by primary school students who have been learning instruments with the Nayland Music Trust.
Dame Patsy and Sir David will then depart for Dove River Peonies, where they will tour the property and view the packing and root processing areas.
The tour will then move on to Motueka where Dame Patsy and Sir David will be welcomed onto Te Awhina Marae. The final event of the visit will be a trip by boat to Anchorage, with Dame Patsy and Sir David taking the opportunity to walk a short portion of the Abel Tasman Coast Track.
ENDS