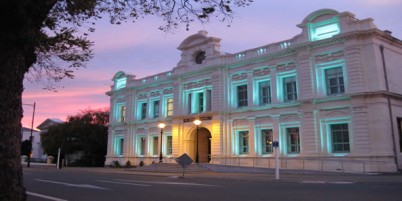 Sir Jerry Mateparae and Lady Janine Mateparae will begin the visit with a welcome on to Arowhenua Marae near Temuka on Wednesday 20 February 2013.
Attending the 150th North Otago A & P Show on Friday 22 February will be one of the many highlights of the busy programme. The four-day visit will also include a stop at South Pacific Sera (Wednesday 20 February), where the Governor-General will launch the Woodhouse Scholars Programme. The scholarships will be open to young South Canterbury students studying biosciences at a South Island university.
The Governor-General and Lady Janine will visit the Bushtown Heritage Site in Waimate where Sir Jerry Mateparae will officially open the Bill O'Donnell Sawmill (Thursday 21 February). The Governor-General will spend the final day of the visit (Saturday 23 February) at the New Zealand Rowing Championships in Twizel.
Media contact: Rebekah Clement, Government House Public Affairs Advisor, on 021 243 7958.

Programme:
Wednesday 20 February
10:00 The Governor-General and Lady Janine are welcomed on to Arowhenua Marae
For media wishing to attend please contact the Office at Arowhenua Marae on 03 615 9646
11:20 The Governor-General and Lady Janine visit Te Ana Ngāi Tahu Rock Art Visitor Centre.
For media wishing to attend please contact Amanda Symon, Curator, on 027 231 6937
13:30 The Governor-General and Lady Janine visit South Pacific Sera, where Sir Jerry Mateparae will launch the Woodhouse Scholars Programme
For media wishing to attend please contact Francis Wevers on 021 916 010
18:00 The Governor-General and Lady Janine host a South Canterbury Chamber of Commerce Reception at Aoraki Polytechnic in Timaru
For media wishing to attend please email Di Hay: di@southcanterbury.org.nz
Thursday 21 February
06:30 The Governor-General starts the Central South Island Charity Bike Ride, Timaru
For more information please contact Phil Laurie on 027 614 3030
10:00 The Governor-General visits New Zealand Light Leathers, Timaru
No media
10:15 Lady Janine Mateparae hosts a morning tea to celebrate local women in the community.
For media wishing to attend, please contact Rebekah Clement, Government House Public Affairs Advisor, on 021 243 7958
14:00 The Governor-General and Lady Janine visit the Bushtown Heritage Site where Sir Jerry Mateparae will officially open the Bill O'Donnell Sawmill
For media wishing to attend please contact Allan Laurie, Chairman, Bushtown Waimate Inc. on 0274 321 420
18:30 The Governor-General and Lady Janine host a dinner for Local Government leaders at Te Kiteroa Lodge
No media
Friday 22 February
09:45 The Governor-General meets with student leaders from the Waitaki Region at Waitaki Boys' High School in Oamaru.
For media wishing to attend, please contact Yvonne Avis on 027 320 8237
11:30 The Governor-General visits the Scott Exhibition (Forrester Gallery, Oamaru).
For media wishing to attend, please contact Bruce Albiston, Co-Convenor, Oamaru Scott 100 on 021 245 0748
14:00 The Governor-General officially opens the 150th North Otago A & P Show (2 Ettrick Street, Oamaru)
For media wishing to attend, please contact, Barbara Watt on 03 437 1037or 027 353 4150
16:30 The Governor-General visits the North Otago Irrigation Company
For media wishing to attend, please contact Robyn Wells, CEO of the North Otago Irrigation Company on 027 603 0661
19:00 The Governor-General hosts a dinner for Local Government leaders at Matuka Lodge
No media
Saturday 23 February
09:00 The Governor-General attends the New Zealand Rowing Championships [All Day]
For media wishing to attend, please contact Rowing New Zealand Marketing & Communication Manager, Margaret Webster, on 021 875 209.

For more information about the programme, or requests for interviews with the Governor-General, please contact Rebekah Clement, Government House Public Affairs Advisor, on 021 243 7958