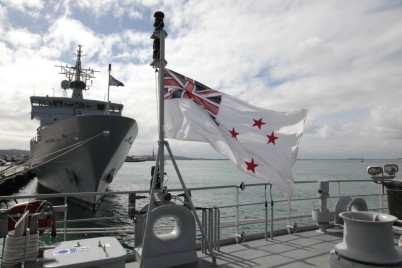 To view images from Operation Endurance, click here
The Governor-General, Rt Hon Sir Anand Satyanand, and Lady Susan Satyanand are to visit New Zealand's sub-Antarctic islands with the Royal New Zealand Navy.
Sir Anand and Lady Susan will leave from Bluff on Monday 6 December on HMNZS Otago. The visit, part of the joint Navy and Department of Conservation programme, Operation Endurance, will mark the bicentenary of the discovery of Campbell Island in 1810 by Captain Frederick Hasselborough and the crew of the sealing brig Perseverance, which was owned by Sydney-based shipowner Robert Campbell (hence the name).
HMNZS Otago and HMNZS Wellington, the RNZN's new offshore patrol vessels, will first head for Campbell Island, about 700km south of Bluff, where members of the Bicentennial Expedition will land and begin setting up the expedition onshore. They will also pick up researchers stationed on the Island.
They will then set sail for the Auckland Islands where they will pick up researchers stationed there. Both ships will return to New Zealand, arriving at Port Chalmers at Dunedin on December 12.
Sir Anand said he was looking forward to visiting this remote part of New Zealand.
"This is one of the last parts of the wider Realm of New Zealand we have yet to visit. The sub-Antarctic islands have a fascinating history and unique and fragile flora and fauna. This is a great opportunity to see the men and women of Royal New Zealand Navy in action, working alongside other government agencies such as the Department of Conservation."
While the Governor-General is away from the New Zealand mainland, Chief Justice, Rt Hon Dame Sian Elias, will act as Administrator of the Government.
For more information contact: Antony Paltridge, Public Affairs Manager, Government House on 04-382-0832 or 021 470 583 or Andrew Cutler, Royal New Zealand Navy communications manager on 021 925 374.