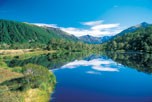 The Governor-General of New Zealand, Hon Anand Satyanand, will travel to the West Coast of the South Island next week for the start of a five day regional visit.
During his visit, he will visit several schools, business and community groups from Karamea in the north to Franz Josef in the south as well as attending the opening of the Coast's iconic Wildfoods Festival.
The Governor-General said he was looking forward to visiting the West Coast.
"While we have privately visited the West Coast before, this will be our first official visit since I was appointed Governor-General. From the cloud-piercing mountains of the Southern Alps to its beautiful coastal scenery, the West Coast has a unique landscape, diverse ecology and fascinating history. We are looking forward to meeting its people and learning more of the region's future plans."
Some of their planned events include:
Tuesday 10 March:
9.10am: Māori Welcome, Westport Airport.

11am: Visit to Karamea Area School, Karamea

3.30pm: Civic Welcome, Clock Tower Chambers, Westport
Wednesday 11 March:
10.30am: Official reopening of the Oddfellows Hall, Reefton.

1.40pm: Visit to Sutton's Moss, Kaiata

2.40pm: Visit to Grey Base Hospital, Greymouth.

7pm: West Coast Rugby League Dinner, Shantytown, Paroa
Thursday 12 March:
10.30am: Powhiri, Arahura Pa, Hotikika.

1.30pm: Visit to Hotikika Craft Gallery Co-operative, Hokitika.

3pm: Visit to Westland Milk Products, Hokitika.
Friday 13 March:
9am: Visit to South Westland Area School, Harihari.

10.30am: Meeting Department of Conservation staff, Franz Josef Glacier

12noon: Inspect Okarito Kiwi Project, Okarito.
Saturday 14 March:
11am: Attends Wildfoods Festival, Hokitika

1.45pm: Travels to Christchurch on the TranzAlpine Train.
To view images from the visit click here.
For more information contact: Antony Paltridge, Government House on 04-382-0827 or 021 470 583