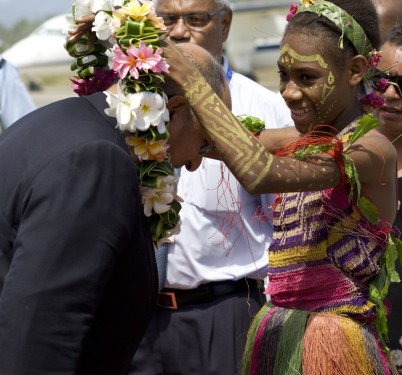 The Governor-General, Hon Sir Anand Satyanand, and Lady Satyanand are to make a State visit to Papua New Guinea and the Solomon Islands next week.
Sir Anand said New Zealand had a long and shared history with both Pacific and Melanesian nations.
"New Zealand and Papua New Guinea are close partners at both the regional and bilateral levels. The relationship now includes regular political-level consultations, a large development assistance programme, defence co-operation activities and a network of commercial and business linkages."
Sir Anand said New Zealand's relationship with Solomon Islands had developed over many years, including early missionary linkages and the Guadalcanal campaign during World War II.
"The political goodwill that has built up over that time has been enhanced in recent years by New Zealand's strong support and involvement in the Regional Assistance Mission to Solomon Islands and an increased focus on the bilateral aid programme."
The Governor-General and Lady Satyanand will leave on Monday 28 September and return to New Zealand on 6 October. They will visit Papua New Guinea from 28 September to 2 October where they will meet Governor-General Rt Hon Sir Paulias Matane and Lady Matane and Prime Minister Rt Hon Sir Michael Somare. They will also lay a wreath in the Bomana War Cemetery and meet the last survivor of the Papuan Battalion that fought in World War II.
Whilst in Papua New Guinea they will also visit a number of aid projects, including Anglicare StopAIDS, and work by New Zealand Volunteer Service Abroad volunteers. As a part of the visit, they will also travel to East New Britain and Eastern Highlands provinces.
The Governor-General and Lady Satyanand will visit the Solomon Islands from 2 October to 5 October where they meet Governor-General Frank Kabui and Mrs Kabui, Prime Minister Hon Derek Sikua and other government, judicial and community leaders. They will also meet with RAMSI Task Force personnel and visit World War II cemeteries and battlegrounds as well as touring various aid projects.
While the Governor-General is overseas, Supreme Court Judge, Rt Hon Justice Sir Peter Blanchard, will serve as Administrator of the Government.
To view images from the Papua New Guinea visit, click here and from the Solomon Islands visit, click here
For further enquiries contact:
Antony Paltridge, Government House on 04-382-0827 or 021 470 583
Last updated:
Thursday, 24 September 2009