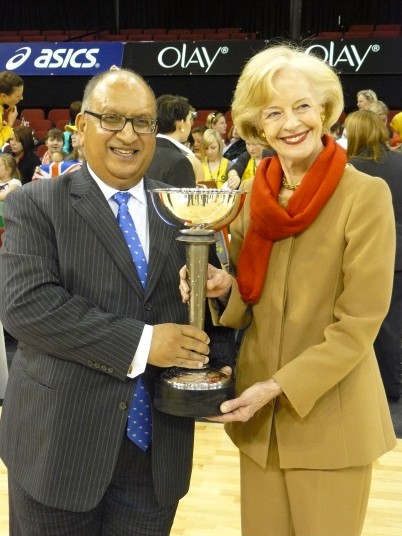 The Governors-General of Australia and New Zealand are supporting the new cup to recognise Trans-Tasman netball competition between the two countries.
The Constellation Cup, announced today (Saturday 28 August) by Netball Australia and Netball New Zealand, will be awarded for the first time to the overall winner of this year's netball international test series between the Silver Ferns and the Australian Netball Diamonds.
Australian Governor-General, Ms Quentin Bryce AC, and New Zealand's Governor-General, Sir Anand Satyanand, have worked together in partnership with Netball New Zealand and Netball Australia to develop the Cup concept. Both Governors-General will attend the first test match in Adelaide tomorrow (Sunday 29 August).
The inaugural winner of the Constellation Cup will receive the trophy from Sir Anand at the conclusion of the third test match at Vector Arena in Auckland on Sunday 5 September.
Sir Anand said he suggested the creation of the Cup to Netball New Zealand because it would provide a focus for netball competition between the two nations.
"Almost 80 years ago, Lord Bledisloe, one of my predecessors as Governor-General gifted the cup that bears his name and which has come to symbolise rivalry on the rugby field between Australia and New Zealand. The Constellation Cup will provide an equally enduring focus for netballers on both sides of the Tasman and recognise the wide participation in the sport."
Ms Bryce said the Cup would recognise the friendly netball rivalry between Australia and New Zealand.
"New Zealand has for a long time been a role model and inspiration for Australian netballers. Our women have observed and very much benefited from the respect and profile afforded them when they tour New Zealand. How wonderful it is in this highly competitive arena to have such a generous, enduring and rewarding collaboration between nations."
While Sir Anand is in Australia on August 29-30, Supreme Court Justice, Sir Peter Blanchard, will serve as Administrator of the Government.
To see images from the first game, click here
For more information, contact Antony Paltridge, Public Affairs Manager, Government House Wellington, on 04 382 0827 or 021 470 583 or Niree Creed, Senior Communications Adviser, Government House Canberra, on 02 62833519 or 0418 625595